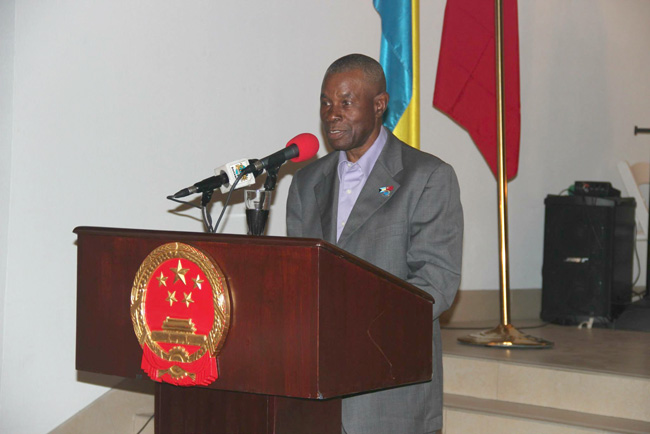 Nassau, Bahamas – Reform and the Rule of Law are the objectives of this year's New Year's resolution, during the Year of The Goat, to foster friendship and good relations between China and The Bahamas.On February 8, Bahamas China Friendship Association (BCFA) President, Anthony Capron, gave brief remarks commemorating this milestone in developing strong diplomatic ties with the People's Republic of China.The celebration was held on the grounds at the Embassy of the People's Republic of China in Nassau on Shirley Street at 6:30 PM.
"In this New Year, we welcome some new beginnings in our association with the great nation of the People's Republic of China, and it could have not been better than with our own Prime Minister Perry Christie visiting China last month and meeting with President Xi Jinping and Premier Li Keqiang," said Mr. Capron.
"We in The Bahamas can take note that in his New Year's address to the Chinese people, President Xi promised that there will be no turning back from the government's intention to comprehensively deepen reform in that country.He said, 'reform and the rule of law must be advanced at the same time to achieve an "all around well off society by the year 2020'".
Mr. Capron said as the new Baha Mar hotels are scheduled to become operational in a matter of weeks, which will herald a new beginning on the Cable Beach Strip, it will be like nothing that has been seen in The Bahamas before.He added that we will start to see the beginning of the redevelopment and revitalization of Bay Street and the uptown areas of New Providence.
"Over the years, we have become accustomed to saying downtown redevelopment, but it is really the uptown section that has become a blight and an eyesore on the landscape," said Mr. Capron.
"Starting from just east of East Street, there is practically no business there for the local consumer and there is absolutely nothing for any tourist who might venture into that area of town."
Mr. Capron said that Bahamians will need to take full advantage of the opportunities that will become available and the government must ensure that those doors are opened and remain opened.
"This Spring Festival, in China, is really a celebration of family togetherness and reunions.It is like what we, in The Bahamas, and others in this Hemisphere do at Christmas time.A new year, however, is also a time of reflection.A time to consider where we are, where we want to go, and how to get there," said Mr. Capron.
"For all intent and purpose, we in The Bahamas, have hitched our wagon to the Chinese train.It is a train that knows where it's going and it is moving with a purpose.In some quarters, the Chinese economy is considered to be number two in the world, behind the United States.And there are some strategies that peg it at number one."
Mr. Capron said China planned its course and stuck with its plans from the ashes of their 1949 revolution and Bahamians should think long term rather than making changes with every administration.
"We have to plan beyond what can be accomplished this term in office, and if we are reelected for a second or third term.We have to develop plans that will carry through regardless to which letters or colour control the central government," said Mr. Capron.
"Zero tolerance is a phrase we bandy around about almost everything.But everything keeps on happening regardless.To my mind, we should practice how the Chinese deal with zero tolerance in the fight against corruption in government, where, when officials are found out they are publicly exposed, taken before the courts and given maximum sentences for their crimes.These are often lifetime terms and the rung position of the offender on the political ladder doesn't seem to matter."
Mr. Capron said the BCFA has enjoyed a 10 year relationship with the People's Republic of China and, as our two governments grow stronger in friendly relations, we look forward to our friendships continuing for many more years.
He also said that the BCFA looks forward to welcoming a delegation from the Chinese People Association for Friendship with Foreign Countries (CPAFFC) next month.