QUICK RESPONSE BY POLICE CREDITED FOR ARREST OF A MAN WITH A HANDGUN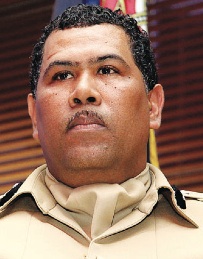 Quick response by officers from the Mobile Division is being credited for the arrest of a 29 – year man who had an illegal handgun in his possession on Tuesday 10th February 2015.
According to reports, shortly after 10:30pm, police received a report that a man was discharging a handgun in the Soldier Road area. Officers from the Mobile Division responded and upon arrival in the area they arrested the suspect after they found a handgun along with one live round of ammunition in his possession. The suspect was taken into custody and is expected to appear in court later this week to be
formally charged.
TUESDAY MORNING POLICE OPERATION NETS 15 ARRESTS
POLICE are reporting the arrest of 15 persons for questioning reference to a number of major and minor incidents to include dangerous drugs, housebreaking, stealing and outstanding court warrants during an early morning operation conducted throughout New Providence on Tuesday morning.
The operation, which is consistent with the Commissioner's Policing Priorities for 2015, was under the command of Chief Superintendent Ashton Greenslade.