All enemies against the STATE should be in attendance!!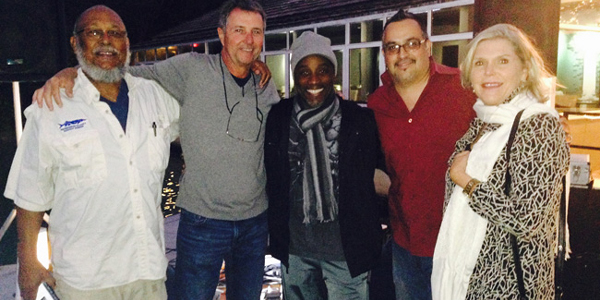 Will you be there with the cockamamie? SAVING THE BAYS FOR WHO?

Nassau, Bahamas — Popular environmental advocacy group Save The Bays is putting music where its heart is – in a 'Chillin' by the Dock of the Bay' concert featuring top Bahamian performer Kirkland 'KB" Bodie and others.
The event, set for Saturday, February 28, at 4 pm will be held at the Flying Fish restaurant in Grand Bahama, rated the island's number one eatery and home of Chef Tim Tibbitts, a Bahamian who returned to his roots after a successful performing career in Canada and is now ranked as one of the Caribbean's 25 best chefs.
"We wanted to host a fund-raiser in Grand Bahama where Save The Bays' impact, particularly in the education arena and among young Bahamians, has been so great," said Save The Bays director Joseph Darville. "We did not want to do anything too formal or fancy, just something that represented what we are all about – preserving the waters for all of us to appreciate and for future generations to enjoy so what better place than on the waterfront. Since Tibbitts hosts a weekly acoustical evening on Sunday nights in this relaxing atmosphere under the stars on one of Grand Bahama's beautiful bays, it just seemed a natural."
Once the idea of 'Chillin' by the Dock of the Bay' was born, he said, it caught on, with one musician after another signing on to donate all proceeds to the cause that is fighting on several fronts for environmental protection and careful stewardship.
Headlining artist and the country's leading musician in sales, KB, a director of Save The Bays, said the concert was a "perfect opportunity to mix the message with the medium to deliver it.
"As I get older, I realize how important it is for my music to mean something and this cause of protecting the environment of my Bahamas is so close to my heart," said the songwriter and singer who made his name with songs like 'Bush Mechanic' before he took on the philosopher musician persona. Today, said Darville, you are "more likely to hear KB on radio talking than you are to hear him singing because he has reached a stature in the Bahamas of being a national treasure so we are very honoured that he will be taking part in this concert and that of all the causes he cares about, Save The Bays occupies such a high priority."
Other performers include recording artist Tim Tibbitts, well-known local singer Derek Gape, respected author and singer Marina Gottlieb Sarles and master guitarist Steve Persaud. The Tibbitts, owners of the Flying Fish, are donating the premises and catering for the show.
"We are very grateful to Flying Fish for coming on board and making this a true fund-raiser with easygoing Bahamian music, chillin' — no loud speakers or heavy metal, just vocals and guitars, possibly a keyboard, a touch of the past as we preserve our resources for the future," said Darville.
Tickets are $75 and will be limited to 150 persons. The price includes two drinks and light appetizers. Concert starts at 4 pm and is expected to last past 7 pm. Tickets are available at Barefoot Marketing and at Flying Fish Restaurant.
The restaurant will be open for diners following the event.
Funds raised will help defray legal and operational costs of the organization that has filed several legal actions to hold environmental protection violators accountable and force remediation of damage caused by oil pollution or unregulated development.
Launched less than two years ago, Save The Bays has grown from a fledgling newcomer to the fastest growing NGO in the environmental movement with more than 17,200 Likes on its active Facebook pages. Its petition calling for an environmental protection act and a freedom of information act is nearing 7,000 signatures and its support from internationally respected scientists and environmentalists has won headlines in several countries.