Why is the Christian Council not fighting for THE MORAL AND SPIRITUAL WELL-BEING OF OUR COMMUNITIES!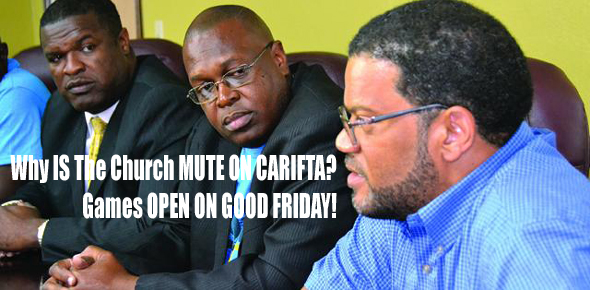 While Bahamians celebrate HOLY WEEK – The Christian Council Support CARIFTA GAMES WITH THEIR SILENCE!
NASSAU, BAHAMAS — In the heart of the most holy season on the Christian calendar, when Christians all over the world will be walking in the footsteps of our Lord and Saviour, The Carifta Games will be held in the Bahamas on Good Friday and the Christian Council said "AMEN"!
These are really imposters and pretenders parading in Christian garb, professing the liturgy of the Word while their complete focus is on the monetary aspects of society.
What is wrong with this picture?
While today the Christian Council wages wars on taxing the gambling houses and find concerns over oil drilling, nothing is being said about how hundreds of young Bahamians on the holiest day of the Christian calendar will be gathering at the new sports stadium.
UNBELIEVABLE!
Bahamians should find the silence of the Council interesting and many should wonder and ponder why in the world will they have not a word to say with the event being held on the solemnest days of the Christian Church! Their secular concerns [OIL RESOURCES and Taxes for Gaming] has taken precedent over what should be their true agenda;THE MORAL AND SPIRITUAL WELL-BEING OF OUR COMMUNITIES!
The Christian Council is again mute when it comes to the multiple incidences of rape and molestations against children that has permeated the news of late.
What is this!
We must begin to wonder if the Christian Council has been hijacked by the devil in a blatant attempt to distract the national discourse?
Why is the church silent on the placing of CARIFTA in the holiest week of the Christian Calendar?
Well there you have it; even these days the Christian Council can be bought!
What in the hell is dis? We hope they preface the games with a glorious session of Praise, Worship and Prayers!
We report yinner decide!