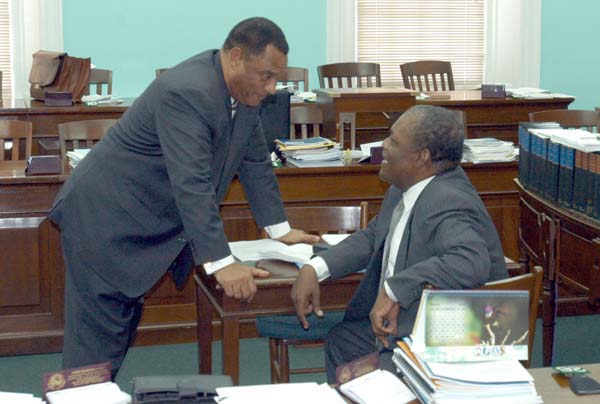 <<< We could hear Hubert telling Christie, "Go Perry, I'll take care of you. Go my brudda."
Nassau, Bahamas — Frightened by an angry mob of PLP supporters who gathered outside Gambier House last night, Perry Christie, Glenys Hanna-Martin and Obie Wilchcombe were all booed as they left the PLP headquarters. Last night's huge gathering of angry PLP supporters was the first sign of CHANGE happening inside the PLP.
On Wednesday Christie floated the plan to file motions at the NGC meeting attempting to block Paul Moss, BJ Nottage and Fred Mitchell from entering the race for Leader of the Party. Christie we now know possessed NOT A SINGLE GRAIN OF COURAGE to move his HITLER/KKK COMMUNIST motions, but rather spew his bitter intent on ZNS and other mediums.
Well Christie, last night was your perfect opportunity to "MAN UP!" What happened? Cat stole your tongue? DAMN PUSSY CAT!
BP sources inside the room of the meeting noted that Stalwarts from across the country were in attendance. Many conveyed to Christie and Hanna-Martin that what they were attempting to do and continue to do to the Party was ILLEGAL, UNCONSTITUTIONAL and UNDEMOCRATIC!

"How could leaders of the PLP in this modern Bahamas seek to gag its voters, gag its MPs and now gag its future leaders from having the chance to run for office in the Party? Christie should hang his head down in shame and should resign immediately! Is this still the Party of MILO, Pindling and Hanna? Is this still the party of free speech? Or have we turned so far back that the UBP is running PLP?" a stalwart told BP.
Christie ran scared after BP challenged him yesterday to proceed with the motion. We warned if his motions had passed Thursday night, we early Friday morning would file a Stay of Elections in the Supreme Court and stop the UNDEMOCRATIC ELECTIONS FROM TAKING PLACE AT THE PLP Convention.
Bahamas Press warns Christie that after nomination day he will once again make history. He became the first one-term Prime Minister in the history of the Bahamas and in 13 Days [October 22nd], he will become the first leader of the PLP to be kicked out of office. [ Free BP Anniversary Phonecard PIN: 3449 7761 5587]
As the online newspaper, TCIJOURNAL.COM, took out-of-power Michael Misik – Obie Wilchcombe's CORRUPT COUSIN – in the Turks and Caicos Islands, so will Bahamas Press remove the entire leadership of the PLP at this month's convention.