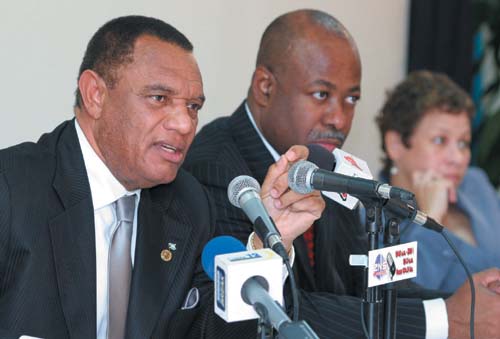 Perry Christie leading a press conference along with Obie Wilchombe and Glenys Hanna-Martin. (file photo)
Nassau, Bahamas: Former Prime Minister and leader of the opposition Rt. Hon. Perry G. Christie responded to an article appearing the the Punch. The latest edition of the Punch headline read "Perry & Rev. help cops in hunt for sissy serial killer", suggested that both Perry Christie and Rev. Terence Morrison have "reportedly volunteered to help cop find gay serial killer." The article referred to latest murders of Harl Taylor, Dr. Thaddeus McDonald, Wellington Adderley and Marvin Wilson who were all brutally murdered in their homes.
Mr. Christie's FULL STATEMENT:
There is a story in The Punch newspaper of today's date with regard to me and purported involvement with a murder investigation going on in the country. This entire story is a malicious concoction of lies and falsehoods including in its references to my departed mother.
I absolutely deny that I am in possession of any information that could possibly be helpful to the Police in relation to any murder or other criminal investigation.
The Punch should be ashamed of itself for continuing to manufacture wicked and completely false stories in order to sell newspapers. This kind of muckraking journalism needs to be roundly condemned and rejected by all responsible elements of our society.