Why did the PLP Government hold a Cabinet Meeting in North Abaco, when Grand Bahama is dying and jobs are being lost?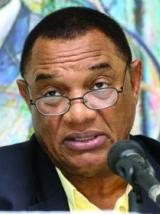 Nassau, Bahamas — One week after the announcement that workers had been fired from GB Power, Prime Minister Rt. Hon. Perry Christie told the press that he was unaware of the situation in GB at the power plant and that he was concerned with the way business is being done on the island.
One would believe that if Christie really believed in Bahamians and put them first he would not only know the firings took place but use his new ministry for Grand Bahama Affairs to get up to speed on the matter and receive advice on the crime now underway against the Grand Bahamian people!
It has been more than one week since the massacre occurred and layoffs happened at GB Power and yet the head of the country is blind to the development?
UNBELIEVABLE!
Is Christie brain dead already? Does he care for the people of Grand Bahama? Why would his government allow a Power Company to rape the people of the island and he says nothing? Why would the New Government watch the massacre of Bahamians and leave them resigned to the unemployment lines while work permits for every nationality in the book are approved day after day for work on Grand Bahama Island?
Christie's comments late this week in the press are an affront to every Grand Bahamian and are indeed a miscarriage of justice by his government for the people in the nation's second city!
Early after the layoff Grand Bahama MP Peter Turnquest quickly slammed GB Power for their treatment against Grand Bahamians. Turnquest was the first to address the plight for the community nationally while the Government sat asleep at the wheel. UNTHINKABLE!
Grand Bahama's long nights of high bills continue and what does Christie say? "I don't know…."
What an unpopular joke they are fast becoming eh?!
We report yinner decide!