Sunday Febuary 27th, 2011 –
On Friday February 25th I read with some degree of amusement and disappointment remarks made by the Chairman of AML, Mr. Dionisio D'Aguilar in an interview with the Tribune newspaper. Mr. D'Aguilar's characterization of our mostly female executive team as "neophytes" marks a blatant disregard for the combined professional experience of this female management team and the ability of women in these respective roles.
His classification that we have "no food retail experience, having mostly come from luxury goods" begs a response. You see the new owners and management of Bahamas Supermarkets Limited, the parent company of City Market, is very committed to creating a new shopping experience for our loyal customers whose opinions we hold in high regard.
This approach is evidenced by the fact that we just don't sit in board rooms or in our executive offices and make decisions, but we can be found, on a daily basis, strolling through the City Market aisles speaking with our associates and guests. The AML Chairman's resistance to connecting the dots between 'retail and luxury' may be something he comes to regret, as our focus at City Market is to afford our thousands of customers nothing but the BEST.
Mr. D'Aguilar must appreciate the fact that numbers don't lie, and if he compares the sales figures of BSL/City Market and AML during the period November 2010 thru January 31st, he would find that sales at AML declined, while sales at City Market grew and continues to grow;  not bad for a "neophyte" team.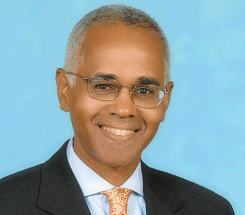 I caution Mr.  D'Aguilar to remember that women are the Chief Financial Officers in most households and they are the gender that does most of the shopping.
His attack on our publication of the executive management team as being "splashed across the newspapers" is unfortunate. We are proud of our executive team – in particular because they are women, they are mothers and they are the primary shoppers. The combined professional experience of our team is extremely sound and one that is already yielding successes for our company. I invite the public to come see our changes over the coming months.  This is not business as usual… nor should it be.  I am proud as CEO to lead this team, and I suggest Mr. D'Aguilar consider an amendment to his spelling of the word "neophytes" when referring to this team to "neofights".
Benita Rahming
CEO BSL/City Market