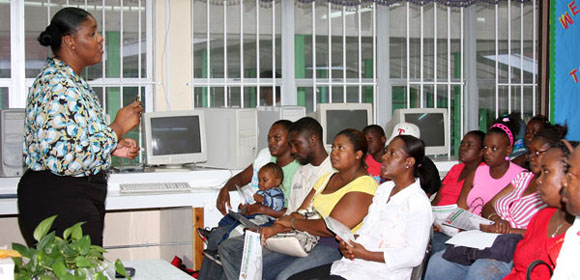 Nassau, The Bahamas  – Charlene Collie-Harris, engineer and public relations representative for the New Providence Road Improvement Project (NPRIP) told the Parents Teachers Association (PTA) of Claridge Primary School that the Government of The Bahamas is currently constructing durable roads to last a long time.
"We're not just paving roads," said Mrs. Collie-Harris. "We're removing what's there and making proper roads that last long and have the correct infrastructure."
Mrs. Collie-Harris along with Sgt. Garlon Rolle of the Traffic Division of the Royal Bahamas Police Force offered the administration and parents of Claridge Primary an update along with safety tips for traversing the roads as part of an island-wide information campaign on the NPRIP.
"So far the road works are in line with our objectives including provision of sidewalks, drainage, underground utilities, proper signage and street lighting among others," said Mrs. Collie-Harris.
Sgt. Rolle said there are too many traffic accidents occurring in New Providence with more than 90 accidents in one week
"We have to do a better job in the way we drive," he said.
He appealed to parents and teachers to use their signals and seat belts. Furthermore, "Be mindful of your safety, your children's safety and the safety of others. Stay off the phone while driving, be patient and manage your time. Be courteous to other drivers — don't block the road when purchasing your newspaper and cell phone cards. Use signals and stop signs," said Sgt. Rolle.