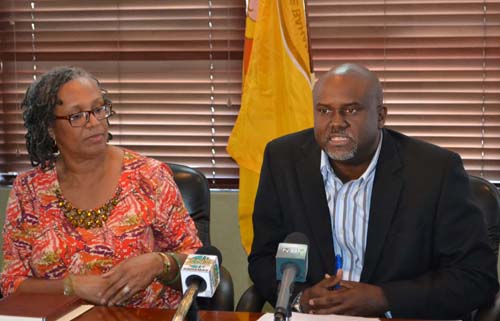 Nassau, BAHAMAS – "A Legacy of Leadership" is The College of The Bahamas' theme for a year of events dedicated to celebrating its 40th anniversary as one of the country's most strategic institutions.
The College was created by an Act of Parliament in October, 1974. A calendar of national events will engage faculty, staff, students, alumni and the public in various endeavours, from the first annual Homecoming and Flamingo Ball to the recognition of 40 outstanding alumni and COB Pride Day and T-Shirt Day observance.
Acting President of The College Dr. Earla Carey-Baines put The College's development and relevance over the last four decades into perspective during a press conference held recently to announce the 40th anniversary events.
"The College of The Bahamas is a national development imperative and our success as an institution and community of higher learning are tied to the success of The Bahamas," she said.
"All of the changes that we anticipate in the future will build upon a solid foundation in academia. This year we will pay homage to our developmental successes and the faculty, staff and students – both current and former – who have contributed honourably to our legacy of leadership and service."
Vice President of Advancement Dr. Ian Strachan, under whose portfolio the events are being executed, noted that the commemoration of the 40th anniversary milestone provides an opportunity to reflect on The College's many achievements and relevance in national life.
"There are a number of things geared towards raising awareness of the accomplishments of the institution and instilling pride in our student body and engaging the public," Dr. Strachan said.
"We are celebrating this 40th anniversary under the theme "A Legacy of Leadership" and we believe if you look at our track record as an institution we have, indeed, been a leader in higher education and our alumni have taken their roles in almost every endeavor of our national life, whether we are talking about parliamentarians, physicians, educators, journalists you name it," he added.
One of the banner events is The Flamingo Ball that will be held June 14th, 2014 at the Melia Nassau Beach Resort. The College will honour 40 of its outstanding alumni at the gala ceremony and induct 5 of them into its Alumni Hall of Fame. The deadline for nominations is February 7th, 2014.
The Flamingo Heritage Award will also be presented to two faculty, two staff and two administrators – both past and present – who have made outstanding contributions to the development of the institution. The deadline for nominations is March 28th, 2014.
Nomination forms for both awards can be accessed online at www.cob.edu.bs.
Dr. Strachan also announced that a committee will propose the naming of several classroom buildings in honour of outstanding Bahamians, thus adding to the character of the institution's Oakes Field Campus.
40th Anniversary Calendar of Events:
February    – Pictorial Exhibit of the History of the Northern Bahamas Campus
March 7th -Tree Planting at the Northern Bahamas Campus
March 20th-COB Pride Day (National T-Shirt Day) -COB Student, Faculty, Staff Talent Show -Essay Competition
June 14th    – Flamingo Ball, Melia Nassau Beach Resort
July – Inaugural COB Yearbook
November -Service Project, Northern Bahamas Campus
November 2-9, Homecoming