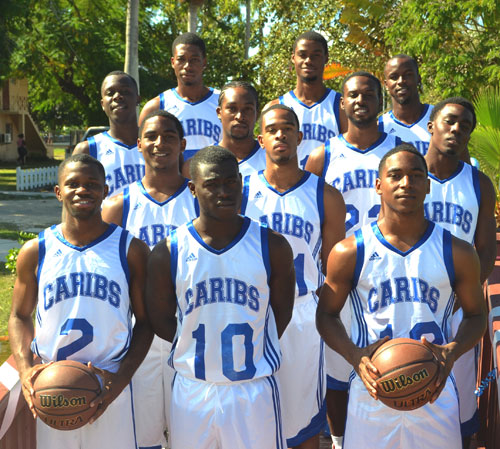 The College of The Bahamas Caribs is hoping that its home court advantage on the basketball court this Friday against the Florida Memorial University (FMU) Lions will give the team the momentum it needs to secure the win against its rivals.
COB's 40th Anniversary Basketball Game, scheduled for Friday, November 7th at 8:00 p.m. at the Kendal G. L. Isaacs Gymnasium will be the second time in nine months that the Caribs will face-off against the Lions, but will be the first game played on COB's turf.
Head coach of the COB men's basketball team Bacchus Rolle says Friday's game is critical in evaluating the team's progress.
"As a coach I am looking to use this game as a gauge, measuring not only our improvement, but as a test to determine if we can compete at this level," he explains.
FMU is a member of the National Association of Intercollegiate Athletics (NAIA) Division I level, primarily competing in The Sun Conference.
Coach Rolle is optimistic that the Caribs' youth and energy are key ingredients to leverage its potential on the court.
"The team's strength is truly our youthfulness which could be seen as a negative also but I think it speaks to, in this case, a positive and a willingness to be molded and shaped into a team to be reckoned with in years to come," he adds.
For Director of Athletics at The College of The Bahamas Kimberley Rolle, achieving steady growth in the performance of The College's athletics teams is a priority. However, she recognizes that the men's basketball team still has lots of room to grow.
"It is a young team, seventy-five percent of the team consists of freshmen and sophomores. However, we do have three seniors and will look to them to provide leadership through the 2014/15 year. We are returning half of the team from last year and have infused some good young talent, so we expect this team to be very competitive," she says.
More than a game that commemorates The College's 40th anniversary, Friday's basketball game is very significant, according to Mrs. Rolle.
"We are hoping to achieve several goals including creating valuable out of classroom experiences for the student body, helping to build pride among the student population about their College and their team and giving parents and high school student athletes an opportunity to see the basketball team in action," she notes.