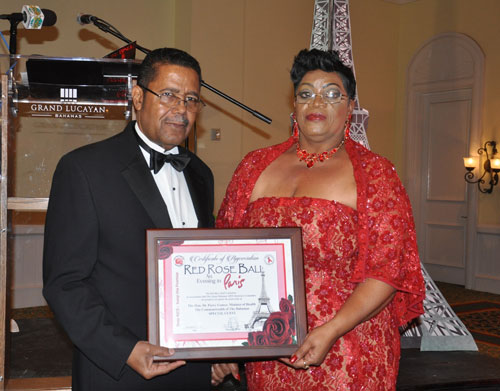 FREEPORT, Bahamas — Health Minister the Hon. Dr. Perry Gomez was in Grand Bahama on Saturday evening and the featured speaker at the 15th Annual Red Rose Ball.
Addressing a large gathering in the convention centre of the Grand Lucayan Resort, Dr. Gomez was pleased to see the number of persons attending the event, which brought focus to HIV/AIDS prevention and treatment.
He also noted that the attitude towards persons with the disease has changed tremendously throughout The Bahamas, for the better.
The black tie affair was designed around "An Evening In Paris."
Pictured is Mrs. Odette Knowles, Red Rose Ball Chairman makes a special presentation to Dr. Gomez.  In the second photo, Minister for Grand Bahama, the Hon. Dr. Michael Darville was among the list of persons lending support to the 15th Annual Red Rose Ball; left to right in the photo are: Dr. Darville and his wife, Susie Darville, and Mrs. Carmen Gomez and Dr. Perry Gomez, Minister of Health for the Commonwealth of The Bahamas.