Young Bahamians making a difference to move the country FORWARD and believe in themselves!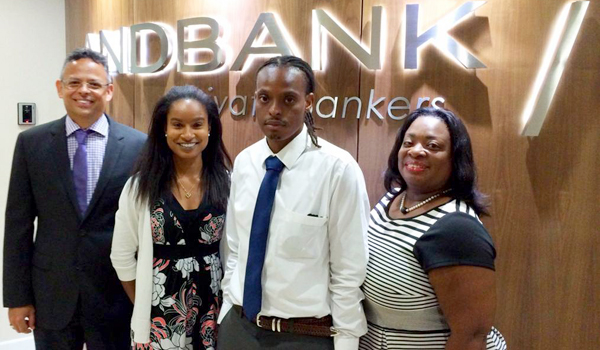 Bahamas Press supports young people who are making a positive impact in the Bahamas and around the world
Nassau, Bahamas — If Justin Knowles and Lauren Russell were told a year ago that they would land a prestigious internship at one of the fastest growing private banking institution in The Bahamas, they would have been astounded and overjoyed at being presented with such an opportunity. Twelve weeks ago, on May 26th, 2014, this opportunity became a reality for both of them.
Justin and Lauren, both College of The Bahamas students, were selected as summer interns at Andbank (Bahamas) Limited, an Andorran-based, family-owned private bank that provides wealth and asset management to its broad client base. Justin, an Economics major, and Lauren, who is studying Banking and Finance, worked closely with a team of Private Bankers, Risk Officer, Compliance Officer and other front and back office staff, and in the process, obtained a well-rounded and eye-opening experience. Whether it was sitting in on client meetings, updating client information, or pitching new ideas to increase efficiency, the experience gained was precisely the exposure these two ambitious undergraduates needed to achieve the high goals they seek to accomplish in their respective future careers.
At the onset, the pair, who had no prior experience working at an international private banking institution, were introduced to the bank's Executive Management and were briefed by Supervisory staff members on the responsibilities and duties of each department and the expectations of their twelve week stint. Lauren said "I was pleasantly surprised at how the staff was so accommodating in acclimating us to the office culture, work activities and levels and the overall pace at the bank, from the moment we walked through the door. Over time I observed that the corporate value of always providing excellent service remained at the forefront of client relationships and interactions. As professionals they go above and beyond to satisfy their clients, but also ensure that they adhere to the principles of integrity, confidentiality and loyalty".
When asked how he felt the internship enhanced his academic experience, Justin said, "I was able to gain a better understanding of a major sector of our economy. I learned why The Bahamas is such an attractive destination for international persons and gained a better understanding of the regulatory framework that governs private banking in the country".
Specifically, the pair learned the importance of maximizing both soft and technical skills. Observing tasks such as operating the Bloomberg terminal, generating reports, assisting with market orders and conducting risk control and compliance tests are equally as important as having good problem solving and communication skills, a strong work ethic, effective time management and the ability to be flexible on the job.
Mr. Daniel Brunner, Head of Private Banking, stated that the main objective of the program is to serve in the best interest of both the intern and the bank. One of the main advantages of an internship is that it increases the prospects of being hired after graduation and he noted that, "In addition to gaining the required knowledge and skills, internships also provide a snapshot of what it would actually be like working in a particular field. Although an individual may conduct research and informational interviews with respect to their career choices, this cannot give a true picture of the day to day activities of say, a wealth manager, in its true form." It is his hope that Justin and Lauren walk away from this internship feeling more confident about their decision to enter the financial services industry. As to benefitting the bank, he says "as is the case with most interns, they are usually young and objective, and tend to come with an open mind. They often question established practices, which can be the impetus for positive change. They also tend to be "tech savvy" and "even with minimum experience, an extra set of hands can make processes more efficient. Being an industry leader requires an institution to have knowledgeable, dedicated, and talented employees – an internship program can be a means to fulfilling this requirement".
Ms. Claudine Farquharson, Director, provided oversight for the program and was happy with the outcome. She said: "In order to ensure the future of this industry, it is absolutely necessary to mentor and train up and coming (young) individuals to be the catalyst of change, innovation, phenomenal growth and great success within this sector, both now and in the years ahead. An internship program is one way that we can accomplish this as it provides a win-win opportunity for all those who participate in this process. It also gives credence to our motto; 'Only talent performs'".
Lauren said that one of the most important lessons learned during this time is that there are many paths to success, but no matter the path that one takes, those who are the happiest and most successful possess what she calls the secret arsenal: they are bold, inquisitive, persistent, and passionate. Being constantly surrounded by such people at this bank, who have a strong desire to succeed, inevitably fosters an environment where achieving lofty goals is the norm."
Once they complete their internship in mid August, the pair will soon be busy again as they commence their Fall 2014 semester at COB.
With the positive impact of their Andbank internship propelling them forward, it is their hope to inspire and motivate other young Bahamians to fully embrace and pursue their dreams with passion.