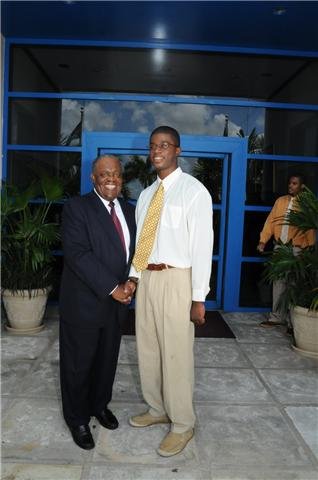 Nassau, Bahamas — COBUS President was taken away by police yesterday after some eyewitnesses claimed he burst out in a disorderly manner.
Renbert Mortimer II planned a birthday party in the College of the Bahamas Union of Students building on Thursday 2rd February. It was then cancelled by security guards. They asked that everyone associated with the event please leave the premises.
Renbert, according to an eyewitness, refused to leave and started to act out in a disorderly way, shouting, "I am the COBUS president! I have rights to be in the Union building! THIS IS THE STUDENTS building!"
Eventually the confrontation led outside the Union Building towards the front of the Library. Reports are that Renbert allegedly tried to trigger a riot by encouraging the students in the library to join in his fight.
School security teams then call the Police to escort the president away from the campus. Perhaps demonstrating a case of mental illness, the young man then stripped his pants off while holding onto a pillar, singing hymns.
He was then detained by police, pushed into the Library, handcuffed and taken to the police station.
RENBERT MORTIMER, we are being told,  is now formulating excuses for his actions, some which do not connect with eyewitness accounts.
The entire ordeal was captured by video cameras. A clip of the arrest is shown below. There are now early reports that he will be sent to the College Disciplinary Board to face the following charges:
– Bringing Alcoholic Beverages on campus
– Disobeying Security Officials
More charges are pending !
Still no word on what the other union members are doing at this point!
We report YINNER DECIDE!