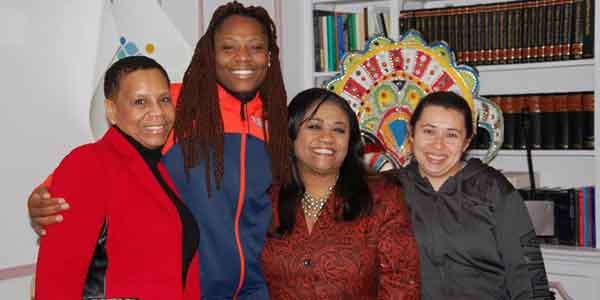 WASHINGTON, D.C. — When the University of Virginia Cavaliers women's basketball team takes on the Tennessee Volunteers in the NCAA Junkanoo Jam Basketball Tournament in Freeport, Grand Bahama, on Thanksgiving Day, November 28, it would have been without one of its key players if it were not for the swift action taken by the Hon. Paulette Zonicle, Bahamas Consul General to Washington, D.C.
Sarah Imovbioh, a 6-feet 2-inches guard with the Cavaliers, missed her flight to Freeport this morning (Tuesday, November 26) because she did not have a visa to enter The Bahamas.  However, Ms. Hadley Zearin, the university's Assistant Director of Operations, brought her from the airport to the Bahamas Embassy at 2220 Massachusetts Avenue, N.W., and made an urgent appeal to Consul General Zonicle for the Miss Imovbioh to be granted a visa.
"Recognizing the urgency of the situation and despite the heavy backlog of visas we are working on at this busy time of the year, we put her on top of the list and processed the visa within 20 minutes," Consul General Zonicle said. "She had to catch a flight at 2p.m. and it was already going on 12 noon, so I asked my driver to take her to the airport."
Both Miss Imovbioh and Ms. Zearin thanked the Consul General profusely for her "kind consideration" in not only speeding up the visa process, but also for allowing her driver to take them to the airport rather than try and catch a taxi in the cold and rain.
Miss Imovbioh is from Abuja, Nigeria, and as the only international player on the team, she needed a visa to enter The Bahamas. All of the other players are Americans and can enter The Bahamas without visas.