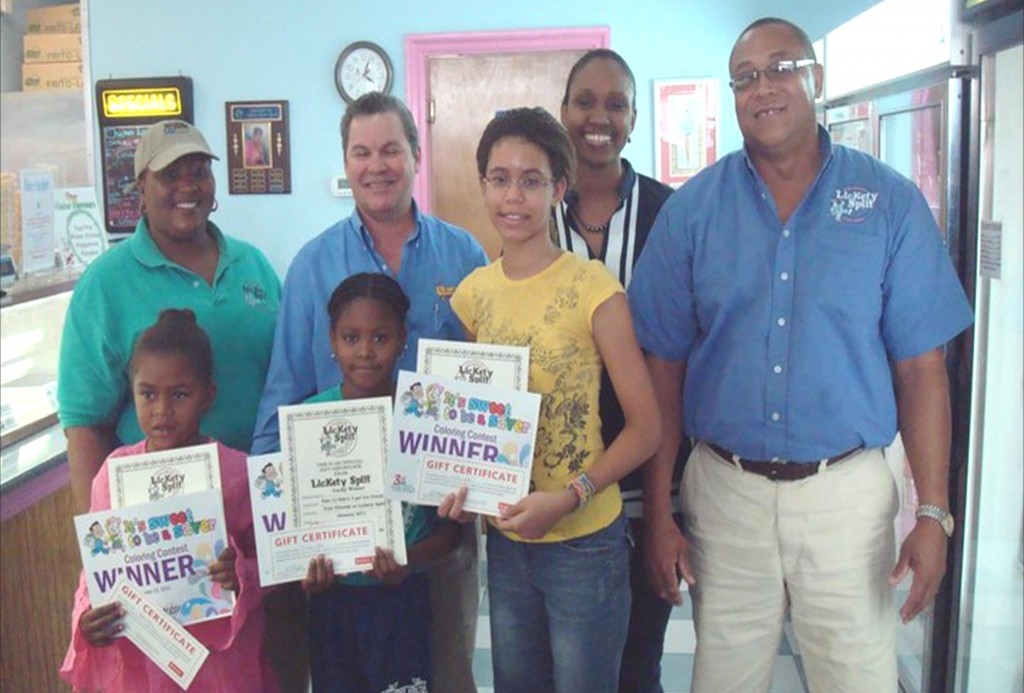 Nassau, The Bahamas — In its third year of hosting the Kids Only Garage Sale for young entrepreneurs, Creative Wealth, The Bahamas' premier youth financial literacy educators continued its mission of getting youngsters in the money making mindset.
Leading up to the New Year, founder of Creative Wealth Keshelle Kerr partnered with ice-cream parlor and deli Lickety Split for the "Sweet To Be A Saver" coloring contest.
"We are so appreciative for Lickety Split allowing us to hold the contest at their branches," said Kerr. "We collected entries in November and December from kids five to seven, eight to nine and 10 to 12 years old in three categories respectively. It wasn't an easy job determining the winners but we got through it and awarded the deserving young artists."
Winners, Sasha Wells, 12, Aysha Albury, 7 and Taneya Rolle, 9 received a bucket of ice-cream from Lickety Split, a savings certificate from ScotiaBank and a 15% program discount from Creative Wealth.
"We felt the prizes were quite important for the kids," Kerr noted. "The Creative Wealth program has been presented in New Providence, Grand Bahama and Abaco at churches, schools, youth groups and even by Members of Parliament with their young constituents. "It [Creative Wealth] has been the foundation for hundreds of children who are now, as we call them, the CEO's of their own lives – those who have gone into a variety of at home businesses. The savings certificate, of course is a start to seeing their money in the bank and the ice-cream is just because children enjoy ice cream. We couldn't have done this without ScotiaBank and Mr. Llewellyn Burrows of Lickety Split who definitely agrees for us to partner again."
One of the youngest and the only certified youth financial educator in the nation, Kerr is also the best-selling author of "Your Child Can Become Wealthy", which includes the secrets of young millionaires including Dr. Farrah Gray.
"Kids can look forward to future initiatives hosted by Creative Wealth and Lickety Split – we both love kids, it's as a match made in ice-cream and money heaven", said Kerr.