BREAKING Update 》》》…Yacht left Old Fort Bay….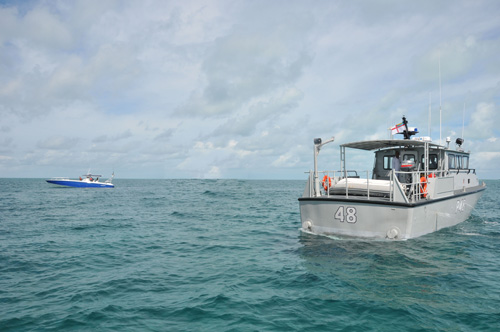 The Royal Bahamas Defence Force was involved in a Cuban migrant apprehension incident in the Cay Sal Bank area. Also around the same time. Members of the Defence Force's Harbour Patrol Unit provided escort assistance to a yacht that was involved in a boating accident, which resulted in the death of a Bahamian male in ocean waters north of Sandyport, Nassau.
In the first instance, five Cuban nationals were apprehended by Her Majesty's Bahamian Ship Durward Knowles near Anguilla Cay in the Cay Sal Bank area while patrolling the southwestern Bahamas earlier today.
The five Cubans, who were aboard a makeshift life-raft at the time, will be taken by DURWARD KNOWLES to Bimini for further processing by Bahamas Immigration Department officials stationed on that island.
Also earlier this afternoon, the Defence Force's safeboat along with a Police Marine vessel provided escort services for a yacht that was involved in a collision at sea in ocean waters north of Sandyport, New Providence. The 90-foot yacht had collided with a small craft resulting in one of the occupants aboard the smaller vessel succumbing to injuries.
It is understood that the deceased was in the company of two others engaged in fishing on the smaller vessel when the accident occurred. The smaller craft subsequently capsized.
The pleasure yacht transported the deceased and the remaining survivors to Prince George Wharf in Nassau where members of the Defence and Police Forces continued their investigations.