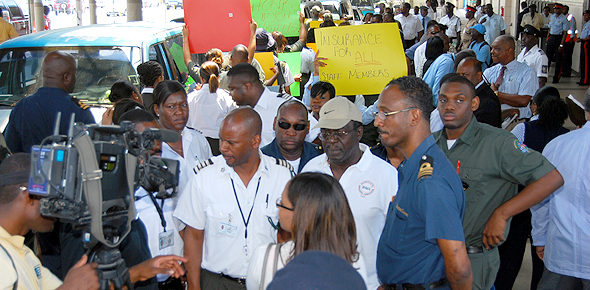 LPIA becomes a hot spot for Protest today – FREE CUSTOMS FOR ALL – NO DUTY TODAY SUPPORT THE PROTEST!
Nassau, Bahamas — Bahamas Press is at this hour monitoring developments at LPIA where Customs and Immigration are now in their second day of industrial unrest.
We can report the umbrella union is fighting for treatment equal to what other unions have received, many of which are silent following the shutdown of work by the Customs and Immigration Union.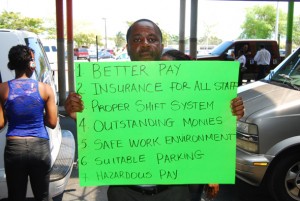 We can report that today, due to the shutdown, Defence Force officers are manning Immigration booths and a skeletal staff of senior officers is at Customs.
We can also report a heavy contingent of police officers are stationed at the airport so as to allow the smooth flow of passengers at the facility.
Bahamas Press can report that BPCOU officers are meeting at this hour also. They oversee the BTC workers, but little is expected from that crew.
Prime Minister Rt. Hon. Hubert Ingraham still quiet on all of the developments and is having his own war internally in the FNM as the general elections draw near.
BP invites you to watch our team coverage on today's developments of unrest now engulfing the country.
Some of our video and audio coverage will and could be seen only on this media. No other media house within 1000 miles will touch the issues gripping the country like BP. None have the nerve or guts to interview the woman dragged in the mud like a dog by police yesterday, but BP did!
Meanwhile we are told passengers are having a field day, one woman coming from Easter shopping cleared two whole bags loaded with purchased goods from Fort Lauderdale DUTY FREE! She told BP, "I support the workers, especially the Customs officers. They work hard to collect the revenue, but today I got away. I encourage all Bahamians to support them and my word to them stay off the job."
We report YINNER decide – because as we say: IF YOU DON'T LAUGH YOU WILL CRY!