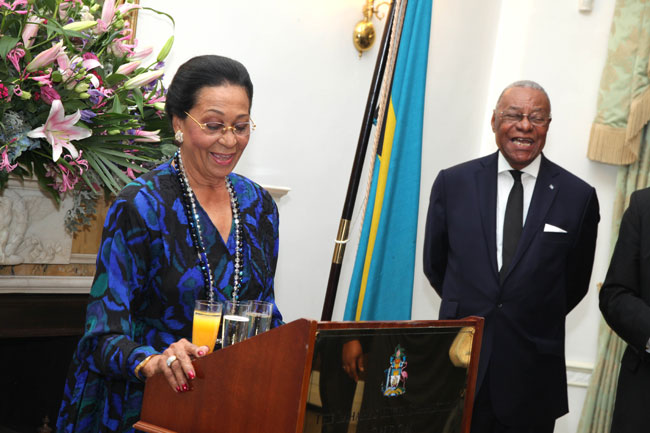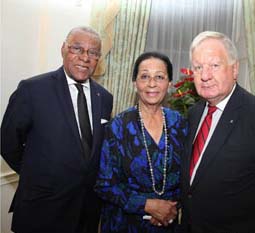 LONDON – The Bahamas High Commission London honoured Governor General, Her Excellency Dame Marguerite Pindling after her Investiture atBuckingham Palace Tuesday, October 14th.
Dame Marguerite was welcomed to Bahamas House by His Excellency Eldred Bethel and Mrs Dawne Bethel, a host of Bahamians, dignitaries and international friends of The Bahamas at the reception in her honour.
Dame Marguerite was invested with the Insignia of a Dame Grand Cross of the Most Distinguished Order of St Michael and St George by Her Majesty, The Queen.
During her remarks, Dame Marguerite said she is thankful to the Almighty for giving her strength to be able to see God's goodness in her life.
"It is a privilege and an honour to have this blessing bestowed upon me. We have struggled as a country, but God has been faithful to The Bahamas. We need to continue to grow and continue to develop and build our nation, stated Dame Marguerite.
The graceful 82 year told the guests in London that her husband displayed great confidence in her and that she is forever indebted to him for his faith in her. One such occasion was in May 1980 when she stood in to read a speech for Sir Lynden in England, as he was called back to The Bahamas during the national crisis of the HMBS Flamingo.
"In life we have important decisions to make as it relates to our destiny, what we were born to do and how we can empower the lives of others. Sometimes all it takes is having faith in ourselves and our ability to transform lives. We have the power to make a positive influence throughout The Bahamas. And while each of you may live here, you still have your part to play in building The Bahamas, you still have a mandate to uplift your home country," stated Dame Marguerite.
High Commissioner Bethel saluted and praised Dame Marguerite for her fortitude and steadfastness over the many years. He explained that she has been a beacon of hope for many.
Said High Commissioner Bethel, "The history of The Bahamas is rich and filled with many who have fought and worked in the trenches like Dame Marguerite and who through their unwavering support has helped to shape The Bahamas today. We stand on the shoulders of Dame Marguerite, and she is a gem that The Bahamas should be truly proud of."
Dame Marguerite was serenaded by Bahamian singer, Mr Clinton 'Roachie' Outten to the Lionel Richie song, 'You're once, twice three times a lady'.
The Governor General was also presented with a bouquet by Mrs Dawne Bethel.