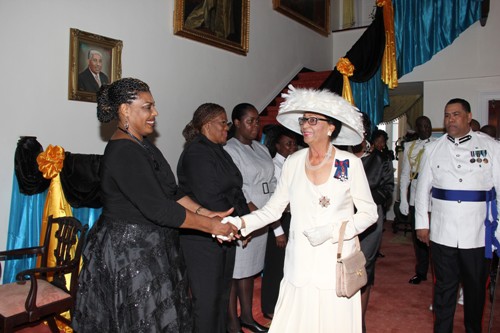 Nassau, The Bahamas – Dame Marguerite Pindling was sworn in as the tenth Governor-General of the Commonwealth of The Bahamas during a special ceremony at Government House, Mount Fitzwilliam Tuesday, July 8. She is the ninth Bahamian to hold the office and succeeds Sir Arthur Foulkes, who demitted office the same day.
The widow of the country's first Prime Minister, Sir Lynden Pindling, she promised to serve to the best of her ability without political distinction and without regard for race, class or social station.
Dame Marguerite's four children and six grandchildren accompanied her. Government officials, members of the diplomatic corps, ministers of religion, family, friends and well-wishers filled the ballroom of Government House to witness the occasion. Wendell Major, secretary to the cabinet, read the Royal Commission of Appointment, Sir Michael Barnett, chief justice, presided over the swearing in. Irene Stubbs, secretary to the Governor-General was the mistress of ceremony.
In her inaugural address, Dame Marguerite, 82, recollected the "long" journey from her native home of Long Bay Cays, Andros to the highest office as Governor-General. She acknowledged God and thanked her husband, Her Majesty Queen Elizabeth, Prime Minister Christie, Sir Arthur, her children, and the Bahamian people who assisted in helping her to achieve the appointment.
She vowed to strive both in action and in word to promote unity over division, harmony over discord and love over enmity.
Dame Marguerite urged the community to stop fighting and come together to unite to help build The Bahamas.
Prime Minister Perry Christie said Dame Marguerite has earned the appointment and deserves it. He said her previous role as deputy to the governor-general has prepared her to be well-schooled with the requirements and challenges of the position as head of state.
She performed the duties of governor-general with elegance, grace, diplomacy, tact and without the slightest trace of partisan bias, he said.
Among the accomplishments he noted are Dame Marguerite's service to her country as an influential figure in the struggle for majority rule, as first lady of The Bahamas and as a supporter for charitable causes.
"I have the highest confidence that Dame Marguerite will discharge her duties as governor- general with complete fidelity to the constitution and in close concord with the conventions of impartiality and non-partisanship that have been so scrupulously adhered to by all her predecessors," he said.
The Prime Minister pointed out that Dame Marguerite's appointment has echoes of the same theme of Sir Arthur's demission of office that in The Bahamas the "lowliest can be raised to the highest".
Following the ceremony, Dame Marguerite inspected the guard of honour.
"We witness the same theme, the same social dynamic, same historical phenomenon being replicated as a great and gracious lady born Marguerite McKenzie in a remote and primitive settlement in Andros at the time proves once again that the circumstances of one's birth, the humility of one's origin is no barrier to the attainment of the highest office in the land nor to any other office of status in this beloved nation of ours."