FNMs still cannot believe Minnis wants nothing to do with Ingraham rejects!!!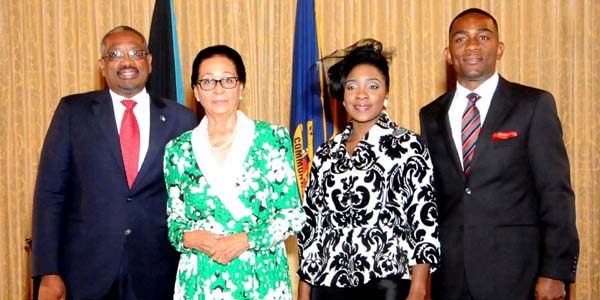 New Senator represents new team for Opposition…
Nassau, Bahamas – In a brief ceremony held at Government House on Tuesday, February 24, 2015, Mrs. Lanisha T. Rolle received from Her Excellency, Dame Marguerite Pindling, GCMG, the Instruments of Appointment making her the newest FNM Senator in the Upper Chamber, replacing former FNM Senator Heather Hunt who resigned on January 22, 2015.
In her response Senator the Hon. Lanisha Rolle attributed her success to the Almighty God. She noted that the appointment positions her to serve all Bahamians with a tri-fold purpose. First to deliver a message of hope to the youth of our nation, second to serve with humility, resilience, and integrity on behalf of the people of The Bahamas, and third to walk worthy of the vocation wherein she has been call by the Church.
In his remarks Opposition Leader the Hon. Dr. Hubert A. Minnis congratulated Mrs. Rolle on her appointment which he said represents the FNM's vision and goals in several ways. "We wish to demonstrate the flexibility of purpose and roles that characterize the Bahamian democracy the FNM is fighting to preserve, and expand," said Dr. Minnis. Dr. Minnis lauded Mrs. Rolle's professional and academic achievements — an accomplished young Attorney and ordained Minister of religion, with two honours Bachelor's degrees and a Master's degree, coupled with her knowledge of human nature general can-do attitude, and her service as a Member of the FNM National Executive, as ingredients that recommended her highly for the Senate post.
Commenting on the high levels of crime and the increase of the fear of crime in The Bahamas Dr. Minnis said that Mrs. Rolle's decade plus police experience will raise an informed voice in the Senate, and give input to the FNM's program of response, as the Party seeks to create new initiatives to address crime. Making reference to the increase of violent crimes against women and children, Dr. Minnis said he is confident that in her role as mother of two daughters and a son, she has an innate vested interest as a woman, that will propel her to be a standard-bearer in the Senate for women that will allow her to make a heartfelt and cogent contribution to raising the conversation on the subject.
Mrs. Rolle hails from Over the Hill. She is married to Vontenken Rolle and they have three children, Vonisha, Vontonken II, and Vonteneke.