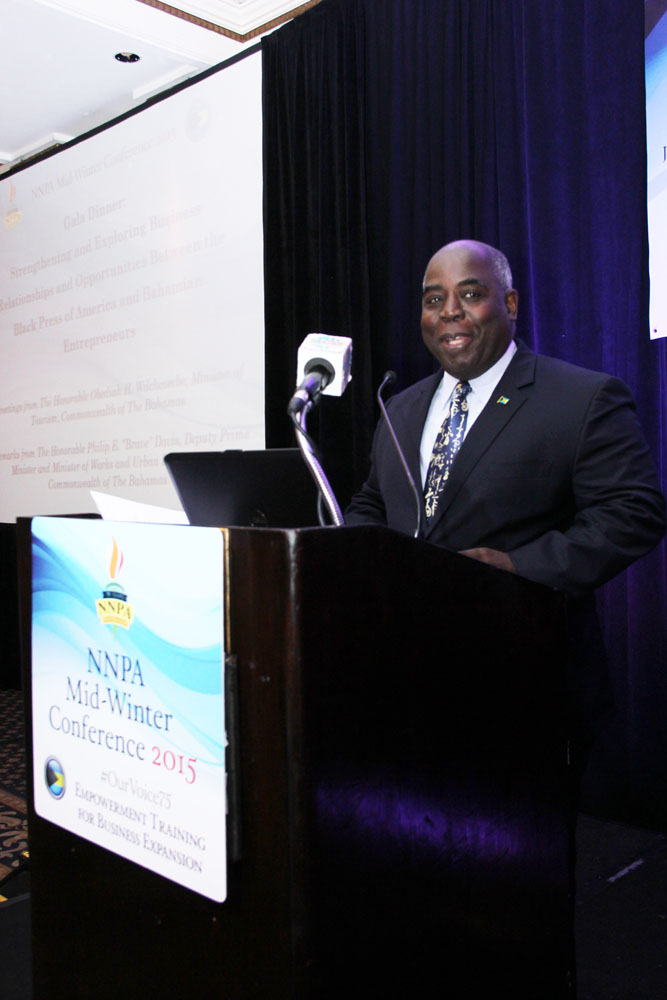 By Kathryn Campbell
Bahamas Information Services
NASSAU, The Bahamas – In his remarks at the National Newspaper Publishers Association's Mid-Winter Conference 2015 Deputy Prime Minister and Minister of Works and Urban Development the Hon. Philip Davis told the delegates that as journalists, publishers, their role as peacemakers can never be overstated.
"You must do all that you can to continue to be forthright and objective, true tellers, calming troubled waters while providing an accessible resource for young, emerging leaders.
The three-day event, which focused on Empowerment Training for Business Expansion, was held January 28 to 31 at the British Colonial Hilton Hotel, Bay Street.
He congratulated them for 75 years as an Association and encouraged them to enjoy as much of the island as they could and to let the world hear of their experience here.
The Hon. Obediah Wilchombe, Minister of Tourism, in his greetings to the newspaper publishers said as a former member of the media, 19 years as a broadcaster, he understood the work they did and believed in the fine tradition of the media, particularly the print media.
Minister Wilchcombe encouraged the publishers, writers and editors to work together for the greatness of relationships.
He referred to words of Prime Minister Perry Christie, who in 2002, said The Bahamas has to guard and generate relationships with African Americans to ensure there is a common understanding that the people are the same and have to work together for the greatness of the nations.
He noted that recent business relationships have helped The Bahamas' tourism industry to soar and climb to number eight in the world as it continues to grow.
"We will continue to build the relationships because we have to ensure that in this global community you know who your brothers and sisters are. You have to understand that our similarities and our commonalities are our greatest [asset]: if we understand what they are then, our differences might be smaller," he said.
He expressed pleasure in having the Association in The Bahamas. "It's a wonderful occasion to see you here, to see you talking to us and we talking to you about entrepreneurial opportunities because today we have more of our people moving in the right, direction. More of our people are leaders of our country, more of our people are business people and doing exceptionally well."
Mr. Wilchcombe committed to marketing The Bahamas via the Association. "I want you to know that we have budgets coming up soon and we have to do some more marketing and we're going to do more marketing with you.
"We're introducing more airlift all throughout the United States of America from the west coast to the east coast and we want to make sure we get the message out because we want to more of our people to see the growth and development of economy, to see how we're managing ourselves. To get the message out we need you. In the next two to three months I promise you we'll have some business.
"We're going to build and we're going to build together. We're going to work and we're going to work together," he added.