Why would anyone gag and tie the hands of a 73-year-old? WHAT IS THIS?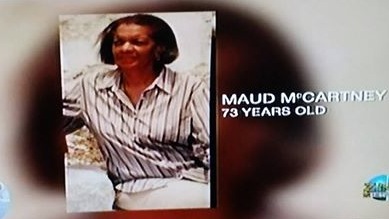 Nassau, Bahamas — The conclusion of murder is now the focus of that elderly 73-year-old woman who perished in a deadly fire this past week in Palmdale.
Bahamas Press' deep investigation with teams on the ground and evidence collected conclude another horrific incident has occurred to a senior citizen.
Detectives have now uncovered a series of clues at the crime scene and further evidence on the body confirm the same and point to murder.
Maud McCartney, a former ambassador within the Ministry of Tourism, was found on the floor in the living room of her home on Collins Avenue where she had lived since 1965.
The fire was reported shortly after 6pm on Wednesday past and by the time a team had arrived the home was engulfed with flames.
Some of that evidence confirms the victim had been gagged and tied before the blaze occurred, and, along with the discovery of scratched matchsticks, clearly shows an attempt by her killers to light the blaze.
BP teams can now report an even deeper investigation is being conducted to find out why Maud was attacked in this way. All we say is this – THERE ARE SOME 'VICKED' PEOPLE WALKING ON THE EARTH!
We report yinner decide!