How many patients yinner think may have been killed by the nurse turned murder suspect?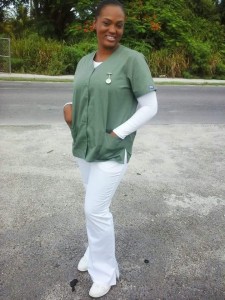 Nassau, Bahamas — 'Da Girls Dem Sugar' Katriona Gilbert murder accused in the death of her young lover Ariel Lowe is not getting used to jail life.
Sources tell us former nurse is depress but is now 'Da Girls DEM Sugar' in teh bbig doll house!
She was processed in early March at the Nassau Street police station before police escorted the visibly distressed 28-year-old to stand before Chief Magistrate Joyann Ferguson-Pratt on murder and arson charges stemming from the February 23 discovery in Miller's Heights.
"I'm about to arraign you on the charges of murder and arson," the chief magistrate told the Farming Gail Road resident.
Gilbert was charged with murder under section 291 (1b) of the Penal Code, chapter 84, which does not attract the discretionary death penalty if a Supreme Court jury finds her guilty at trial.
"It is claimed that you, on Monday, February 23, at New Providence, by means of unlawful harm, did intentionally cause the death of Ariel Lowe. For this offence, you are not required to enter a plea," the chief magistrate said.
Gilbert is also alleged to have "intentionally and unlawfully caused the dwelling house of Karen Stubbs, at Margaret Road, Miller's Heights, to be set afire."
Bahamas Press has now found more into this story and we want to assure you we have not forgotten it. We demand Justice! Justice for the innocent who was beaten regularly and abused by someone she was passed on to.
Now get this: We understand two sisters abused the young deceased girl. Our investigations reveal that, after one relative had sexed up the victim, Gilbert took her from her own relative and then, like a criminal, terrorized the young poor girl's life. You saw the video posted on BP Viewed by over 83,000 global readers.
Bahamas Press now understands Gilbert, who left her police husband, was a practicing nurse. Well, what in da hell is dis? We wonder who else may have died at her hands?
BP just wants to tell yinner we are following this story. 'Da Girls Dem Sugar' is now surrounded by hardened female prisoners. What yinner think she doing now?!
We report yinner decide!