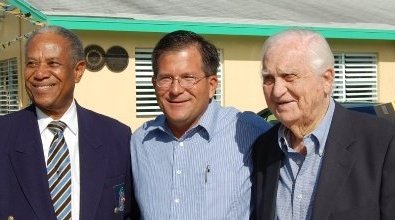 Nassau, Bahamas — Leader of the Democratic National Alliance, Branville McCartney, is once again speaking with a forked tongue just like his political mentor, Hubert Ingraham.
McCartney told the press if he was elected Prime Minister, his administration would propose that the constitution be changed to block any child born to an immigrant from ever being able to apply of citizenship.
In a special interview with the Nassau Guardian published July 25th, McCartney said, "We have a law now that provides that illegals can come over to The Bahamas, have children and then those children can apply for citizenship.
"We can't afford to continue doing that in this country,"
Grabbing more headlines once again this morning following his Town Meeting last evening at the BPCOU Hall, McCartney and his slate of candidates were just listening again as he reiterated his Party's position with children born to foreign parentage.
When it was time to put suggestions to the panel, which was not answering questions last night, DNA candidate for South Abaco, Roscoe Thompson III broke ranks with his Party on the issue, and proposed a similar suggestion presently practiced by the FNM.
Thompson assured the town meeting his position on the matter was no different from that of the Free National Movement government; now being presented in Mackey Yard.
He told persons attending the town meeting, a DNA government should regularize Bahamians and grant land to squatters on land; create a subdivision with tax dollars for the current squatters in the Mud and Pigeon Pea communities.
He pointed to the fact that in Abaco, Bahamians are already outnumbered 2 to 1 to those residing on the island, and that the most sensible way to deal with the immigration situation was the current proposal by the FNM.
Last month the FNM government began the regularizing of Haitian national in the Mackey Yard community, which was destroyed by fire on December 26th. A town meeting to present the government's intention was called and sparked anger among thousands of Bahamians, who applied for housing but have been denied the opportunity.
Some 13,000 Bahamians are on the waiting list for a home at the department of housing.