Dominican Fishermen Charged Before the Courts – will we be selling the boat back to the Doninicans?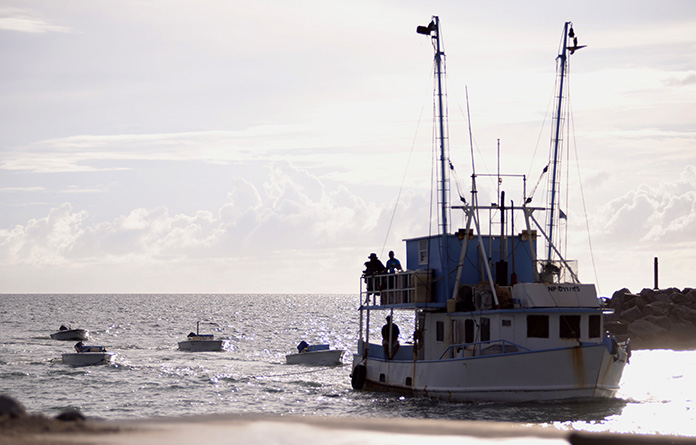 Coral Harbour Base, 05 DEC. '17 (RBDF): Two weeks after they were apprehended for
fisheries violations by members of the Royal Bahamas Defence Force, two Dominican Nationals
were charged before the courts.
Rialerky Lantigua and Yordi Andujar were charged with possession of prohibited apparatuses for fishing purposes, with dive compressors. Both men pled guilty and each were fined two
thousand dollars ($2000.00). Their bail was set and the matter was adjourned until February 7th or 8 th.
On November 23 rd , a total of 45 fishermen aboard two Bahamian registered fishing vessels were apprehended approximately three miles east of Bimini. The vessels, "SRJ" and "Black
Bahamian", were captained by Stephon Green and Vernal Johnson respectively. The crew,
consisting of 16 Bahamians, 23 Dominicans and 6 Haitian nationals, was taken into custody after being found in possession of illegal fishing apparatus, namely diving compressors. Also found on board the vessels were a large quantity of fisheries product. The vessels and crew were brought into the capital and turned over to the relevant authorities.
Magistrate Joanne Ferguson said she would also make a ruling whether the vessels would be
released, as there were no charges against them and the captain.
The Royal Bahamas Defence Force continues to monitor the territorial waters of The Bahamas.
RBDF File Photo Shows: One of the apprehended vessels with skiffs in tow entering the Coral
Harbour Base.