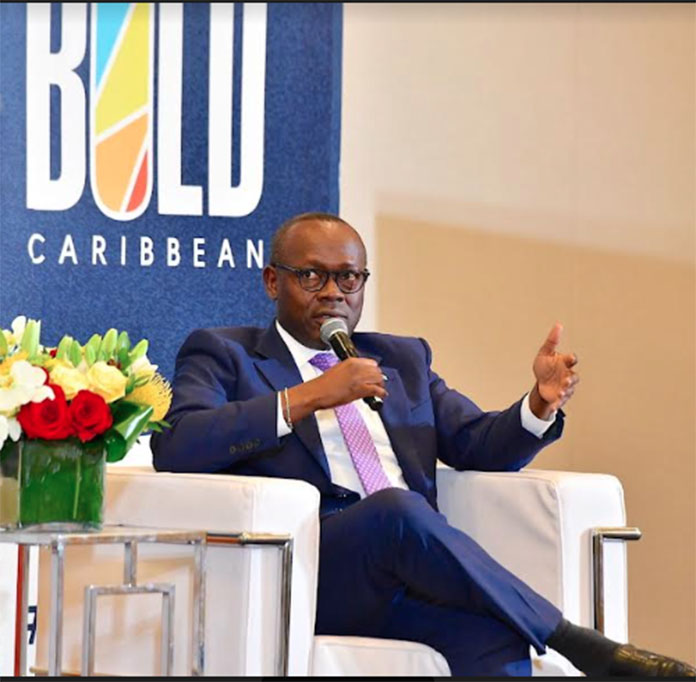 'A Bold New Caribbean'
NASSAU, The Bahamas — Deputy Prime Minister and Minister of Tourism, Investments and Aviation the Hon. Chester Cooper announced that The Bahamas will host the 2023 Caribbean Investment Forum (CIF) scheduled to take place October 23-25, 2023 during his address of the launch of the event, Monday, at Atlantis Resort.
"If we will have 'A Bold New Caribbean,' the Deputy Prime Minister said, "we need initiatives like the Caribbean Investment Forum. We need disruptive and commercially viable solutions. Whilst CARICOM must set the over-arching policy, we do not have the luxury of continuing to pontificate for decades about issues that confront us.
"One such issue is connectivity for passengers and cargo – commercially viable solutions with a business-to-business focus needed. No pressure, but CIF cannot cause the evolution we need if it becomes another Caribbean talking shop," Minister Cooper said.
"We know what it is that we are setting out to do. It is the 'how,' that we must now work toward. Meticulous planning has gone into how we may close these investment gaps and work is underway, specifically with that goal in mind," Minister Cooper said. When we reconvene here in a few months, we will be manifesting 'A Bold New Caribbean.'
"On a national level, our administration has made as a priority, the education and equipping of the younger generation of Bahamians, with all the tools that they may need to not only become employable, but to also allow them to become employers, should they be desirous of doing so. We are moving beyond the feeding someone-for-a-day concept and looking to make fishermen, farmers, small- and medium-sized business owners of as many as possible. We must be intentional in making SME's big businesses and making big businesses successful regional enterprises. We see many of these possibilities to do so arising through partnerships and collaborations with entities such as yourselves and your partners.
"Whilst aptly themed A Bold New Caribbean, we could have easily called it 'Investments in Paradise' because that is where we are. So, I take this opportunity to welcome you here to the Islands of The Bahamas – the gateway to the Caribbean," said Minister Cooper.
"On that note, let me share some of the efforts underway here in The Bahamas, particularly within my ministry, the Ministry of Tourism, Investments and Aviation. Our tourism sector continues to perform in a stellar manner, post-pandemic. When we look at our arrival numbers, air and sea combined, we have for the first six months of this year, welcomed more than 5 million visitors."
Conservative projections, Minister Cooper said, put visitor arrivals well over 8 million by the end of the year; and with such numbers, the opportunities for new businesses and endeavors are almost limitless.
"Even with these numbers, we are not resting on our laurels. What we have been doing is taking a pro-active approach to evolving the tourism product because we are fully aware that the existing tourism model under which we operate today will not sustain us indefinitely into the future.
"We are today harnessing emerging technologies and concepts and ways of thinking, in order to revamp our product. We are breaking and rebuilding.
"Those in my Ministry understand this concept of being bold and unafraid.
Through the use of digital innovation and the integration of artificial intelligence or Al, we are improving our data collection, analysis and tracking, marketing and promotion, and strategic deployment for improved clarity and better profiles on visitor to our shores.
"Artificial intelligence is being used by my ministry to give us data that we can feel and gives us better inputs for improved outputs. We are also working and engaging actively with our counterparts at the Caribbean Tourism Organization to advance multi-destination tourism.
"Essentially, everything that we do supports not just the vibrancy of the industry but also the attractiveness and feasibility of inward investments in the tourism and hospitality sectors."
Minister Cooper continued: through the Tourism Development Corporation and Tourism Development Fund, foreign investment will be encouraged that will in turn create linkages with other industries and support local entrepreneurship. The Tourism Development Corporation will lower the barriers to entry into the tourism industry for the average youth and women entrepreneurs, and place ownership in their hands.
He said: "When the Caribbean Investment Forum gathers here before year-end, we will begin to plot out, 'A Bold New Caribbean.'"
Minister Cooper said 'A Bold New Caribbean' will "require us to reexamine the traditional ways of doing business and honestly assessing whether, within today's current global competitive climate, this is sufficient to continue propelling us forward, not only in survival mode, but as trendsetters and first movers. So, let's throw out some of these outdated ideas – some, not all – and work toward better.
"For a bold new Caribbean, we must fully embrace disruption, no matter how uncomfortable it may initially feel.
"Ending as I started, the Caribbean Investment Forum's ongoing prominence will be connected to its ability to find tangible, practical feasible solutions to the issues that confront us, and I am confident that this conference will do just that.
"One of those areas is Food Security – to challenge ourselves to achieve CARICOM'S goal of the 25 percent reduction in imports by 2025 perhaps by aggressively deploying agri-tech." (BIS Photo/Kemuel Stubbs)