Canon Neil Roach Remembered at 50th Trinidad & Tobago Anniversary…
Nassau, The Bahamas – Deputy Prime Minister and Minister of Works and Urban Development the Hon. Philip Davis congratulated Trinidad and Tobago on its 50th Anniversary of Independence and pointed out that the country joins a "select group of nation states within the Commonwealth" who achieved independence 50 or more years ago.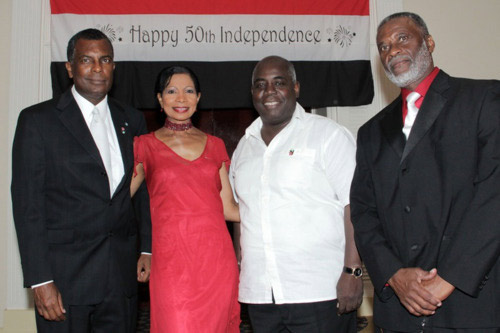 "Fifty years as a country is indeed a momentous occasion to mark the achievements of a people," Deputy Prime Minister Davis said at a celebratory ceremony, at the British Colonial Hilton, on August 31.
Deputy Prime Minister Davis said that in 1962 Trinidad and Tobago and Jamaica led the way for Caribbean territories towards independence from colonial status within the British Empire. In that same year, he added, they joined with freedom fighters in Africa and Asia in achieving "this milestone in nationhood".
"Many of our political leaders of the 1950s and 1960s read the thoughts of great social thinkers from Trinidad and Tobago which helped us prepare ourselves for, first, the attainment of majority rule in 1967 and, subsequently, for independence 11 years later in 1973," Deputy Prime Minister Davis said.
He added that there is much to celebrate, from Hasely Crawford for the 100 metres at the Montreal Games in 1976 to the recent Keshorn Walcott – Trinidad has turned gold – and is today flexing its power in sports along with The Bahamas and those in Jamaica.
Deputy Prime Minister Davis said The Bahamas has also provided loyal supporters of Carnival, with many Bahamians making the trek annually.
"Just before Lent each year there are some people you just can't find at home as they are in Port of Spain 'limin'," Deputy Prime Minister Davis said.
"Besides extraordinary athletes both our states have gifted the world with cultural superstars in writing, music and motion pictures," he added.
"I remember with particular fondness being introduced to the great writer V. S. Naipaul with his early work 'A House for Mr. Biswas' and following his career and success with great interest and pride in yet another extraordinary accomplishment from our region."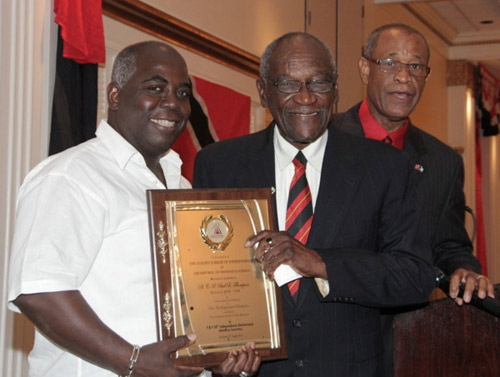 Deputy Prime Minister Davis said that he would be remiss if he failed to pay tribute to the late Canon Neil Eric Roach, who served as Honorary Consul for Trinidad and Tobago to The Bahamas up to the time of his passing last year.
"His long lasting contribution to The Bahamas as an Ambassador has cemented a special friendship between our two countries," Deputy Prime Minister Davis said. "He served first and foremost as a priest and spiritual shepherd to hundreds in our community and also as an educator and columnist."
"His dedication, along with others, to nation building is indeed a testament to the contribution of your twin island state to the wellbeing of the entire region. On this occasion he is greatly missed."
Deputy Prime Minister Davis said to those who reside in The Bahamas, coming from Trinidad and Tobago over the years and have joined hearts and hands to build the country, he offered "a special thank you for your tremendous contributions".
He said: "You have also impressed so many of us who were born in The Bahamas with your ability to love your 'land of choice' without losing your love of your 'land of birth'. We are definitely the better because of you."
"We are also so pleased that citizens of The Bahamas who have taken up residence in Trinidad and Tobago have been welcomed as family," he added.
Deputy Prime Minister Davis noted that the future holds challenges and opportunities for Trinidad and Tobago and The Bahamas as well as the rest of the sister states in CARICOM; but with the lessons of the past to guide the countries, they should go from "strength to strength", as The Bahamas heads towards its own Golden Anniversary and beyond.
"And therefore, on this grand occasion that celebrates your 50th Anniversary of Independence, I wish to express appreciation, gratitude and thanks to many of you here present on behalf of the Government of The Bahamas, for unselfishly sharing knowledge and experience with our two countries through nation building," he said.
"We are one and we must always work together to achieve to our maximum potential for the ever-growing benefit of our people."