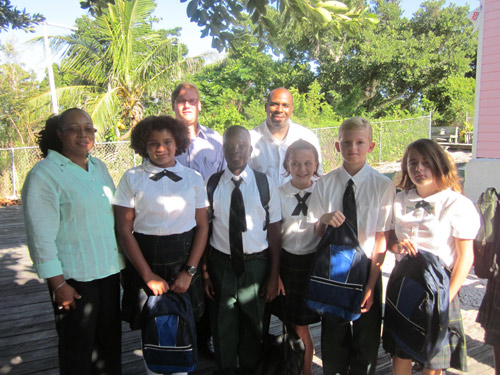 Green Turtle Cay, Abaco – On September 3rd, 2012, PLP Candidate for the North Abaco in the upcoming Bi-Election, Renardo Curry, was greeted by a delegation of enthusiastic supporters in Green Turtle Cay, including the Minister of Financial Services, the Honourable L. Ryan Pinder.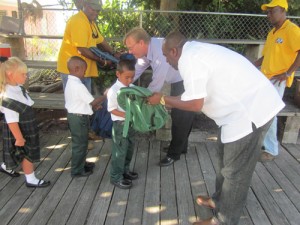 Mr. Curry and Minister Pinder attended the opening of the school year assembly at Amy Roberts All Age School to provide to the students back to school materials and give support for the upcoming school year.
Mr. Curry was invited by the principal of the school to bring brief remarks to the students. He spoke to the students about the importance of receiving an education in today's society. He also explained to the students that it was his hope that someday they will become the young leaders of our country as many Abaconians before them have done and as he strives to become.
He also told the students that they must take advantage of every opportunity provided to them by their parents and appreciate the dedication of their teachers.
Mr. Curry also highlighted the importance of extracurricular activities in the community of Green Turtle Cay, especially for the enhancement of the youth. He explained that after much consultation with various residents in the community, he would engage the Government to provide the necessary assistance to start a marching band in the community and provide other resources to assist in the youth development of Green Turtle Cay.