DPM Davis Inspects Roadworks in San Salvador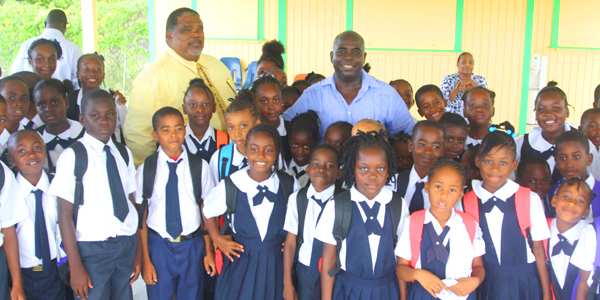 Students on family island ready!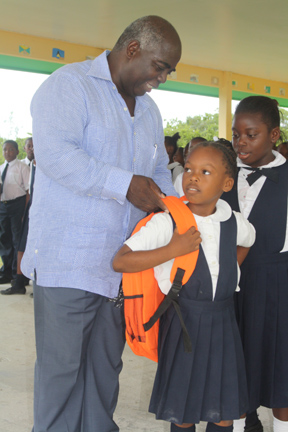 San Salvador, Bahamas – The Deputy Prime Minister and Representative for Cat Island, Rum Cay and San Salvador, Hon. Philip Brave Davis, recently visited each of the schools in his Constituency to offer encouragement to Students and Teachers as well as to personally make a gift of a school backpack (which contained essential school supplies) to every student in each of the three high schools, the five primary schools and the one remaining All Age School.
For his visits the Deputy Prime Minister was accompanied by the Local Government Administrator for San Salvador and Rum Cay, Mr. Harvey Roberts (in San Salvador and Rum Cay); and the Local Government Administrator for Cat Island, Mr. Jackson McIntosh and the Cat Island District School Superintendent, Mr. King (in Cat Island); as well as Senior Policy Advisor to the DPM, Mr. Philip Smith and Bishop Harry Collie.
During the visits Mr. Davis shared his days as a primary student in Old Bight and the challenges he and his contemporaries experienced. He recounted the very many leaders in Government and Civil Society, who were once students in the very school buildings, and expressed the hope that from these same institutions will come a future Prime Minister and other leaders of the Bahamas.
Mr. Davis recalled, in particular, the efforts of Mr. Rodney Bain, Methodist Minister Rev. Edwin Taylor and Anglican Priest Father William Granger who each found themselves in Cat Island at about the same time in the middle of the last century and worked together, not only to introduce quality high school level courses in Cat Island,  but to successfully inculcate a love of education in the communities.
While in San Salvador, the Deputy Prime Minister toured the roadwork presently underway as a result of a contract signed between the Government and Symonette Enterprises of Eleuthera on 9th August 2013. Much of the road has received essential remedial work.
The Deputy Prime Minister was pleased to hear compliments expressed by members of the communities effected by the roadwork with reference to the quality and diligence of the contractor."
Late last year the DPM Davis confirmed his government's decision to shift focus with capital development projects from the capital to family island communities where an investments in infrastructure upgrades were needed.