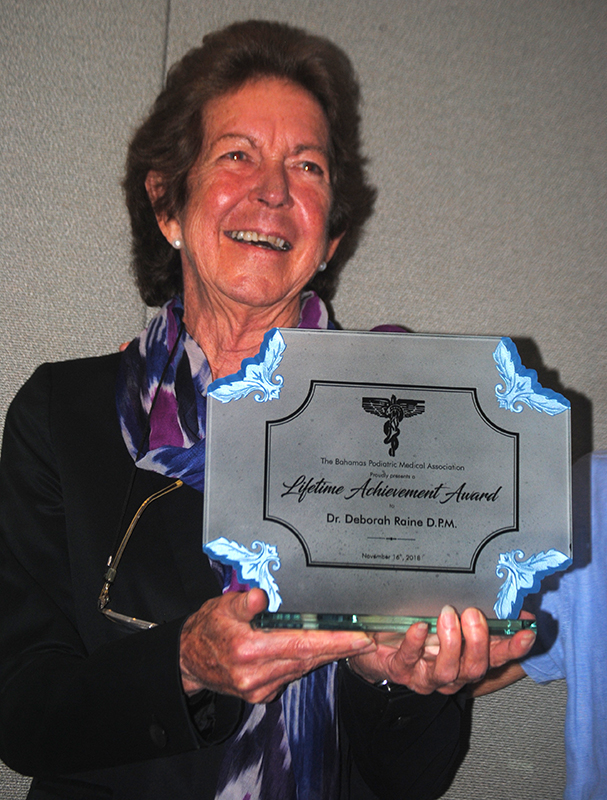 Nassau, Bahamas – Dr. Deborah Raine was honoured with the lifetime achievement award by the Bahamas Podiatric Medical Association (BPMA) for her pioneering work in podiatry in The Bahamas. The BPMA presented her with the award during its first annual conference on the Diabetic foot held last week. BPMA President Dr. Daniel Johnson and Minister of Health Dr. Duane Sands presented her with the award for her more than forty years of dedication to the field as a podiatrist (foot and ankle surgeon).
Back in 1973 when The Bahamas was first becoming an independent nation, Dr. Raine was graduating from the London Foot Hospital with a Diploma in Podiatric Medicine. She returned home and made history as the first Bahamian podiatrist. She began private practice in September of 1974, but she also received extensive post graduate education and training at the Chelsea School of Podiatry in London and at various institutions in the United States. Dr. Raine also became a founding member of the Bahamas Diabetic Association.
She has 44 years of dedicated service to her patients, her profession and her country. She has been a mentor and an encouragement to young professionals in her field. Even though they are few, they are all close with Deborah whom they look up to and often consult as they attend to various foot and ankle issues. They include podiatrists Dr. Daniel Johnson, Dr. Monique Mitchell, Dr. Stephen Dorsette and Dr. Kenneth Kemp.
In presenting the lifetime achievement award to Debroah, Dr Johnson said "her expert work is known throughout The Bahamas".
"She is loved by her patients and highly respected by her colleagues. We are grateful for her dedicated commitment to advancing podiatry in our country. One of the greatest things you can receive is an honour by your peers and we congratulate her for her dedication and commitment to this cause."
International podiatrists who presented at the conference include: Dr Stan Kalish, who presented on Charcot foot dysfunction, diagnosis and treatment; Doctors Borys Markewych, Monore Laborde and Victor Horseley who all addressed minimally invasive surgery in the diabetic foot; Dr Joe Fox; Steve Parkinson, CEO of Lakewood Amedex who spoke on novel antimicrobial therapeutics for treatment of diabetic foot infections; Doctors Andronica Handie and Tim Ganey on stem cell therapy and the diabetic foot – compelling evidence and scientific review; and Dr Daniel Johnson of the Foot and Ankle Institute, Fort Charlotte who shared live surgical cases in the Bahamas performed at Spectrum Surgical Suites.
She is a member in good standing of the British Society of Podiatrists since 1973 and the American Board of Multiple Specialists in Podiatry since 1988. She is board certified in Primary Surgical Care in Podiatry from the American Institute of Foot Medicine since 1992. In 2016, she received the Woman of Distinction award from Celebrating Women International.
Dr. Raine has a passion for her family and for boating and fishing, a past time for which she is well known when she is not practicing medicine. She says she inherited the gift of writing from her late grandmother, author Wilhelmina H. A. Johnson (nee Kemp). She enjoys writing poems and stories in the vernacular and has created skits that children and family members have performed on special occasions. Having given so much to the country for four decades, she intends to spend even more time enjoying the waters of her beloved country of birth.