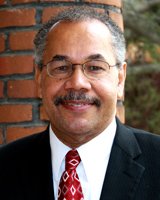 Nassau, Bahamas – The following is a Press Statement from Dr. Rodney D. Smith made on August 2nd, 2014:
I have followed closely the public dialogue concerning my application and indeed being chosen as a finalist for the position of President of the College of The Bahamas.  I have taken note, particularly of the recently published comments of Chairman Alfred Sears that, based on the report of the Presidential Advisory Search Committee, the Council of the College has recommended me to the Minister of Education, Science and Technology for the position.
I am deeply grateful for the show of support and trust that the faculty, staff and students of the College have shown in me.  I am also grateful for the support of my family and for the numerous messages of support and encouragement received from friends and supporters throughout The Bahamas and the United States.
Nine years ago, I made a serious mistake.  That mistake resulted in my resignation from the Presidency of the College.  I deeply regret the mistake and the embarrassment it caused.  It was and remains my decision to accept full responsibility for it.  I am determined to use my experiences to teach students and others of the importance of exercising good judgment and about consequences associated with carelessness in academia.  This mistake will never happen again.
I know that the College will need the support of all Bahamian people, corporations and organizations in creating a national University System; along with that of all civic and political leaders throughout the country and the international community, in general.  As a Bahamian who is committed to the development of our country, I ask that everyone focus on the future for our generations of Bahamians yet to come.
If I am offered the position and we are able to negotiate acceptable terms, it would be an honour and a privilege to serve the College of The Bahamas and my country as a whole, the larger Commonwealth of The Bahamas, as we focus on futuristic goals.  If we work together, I have no question that the future is extremely bright and positive.  It is time to continue the movement forward, upward, onward and together.
I continue to have respect and harbour no animosity toward any who may have questioned the appropriateness of my selection by the College Council for the presidency of the college. The Bahamas is a great democracy where persons are free to speak their mind.
It is my sincere hope and prayer that, in time, all will come to appreciate the essence of which I am, a man of integrity with a desire to serve; including a burning desire to serve and advance his country.