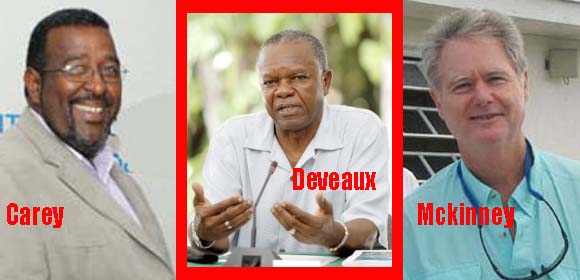 Nassau, Bahamas — Bahamas Press has learnt, Earl Deveaux, has granted the permit to begin dredging in the protected Exuma Land and Sea Reserves.
Bahamas Press can confirm the permit was granted last week and approved by the Cabinet of the Bahamas recently.
After the BNT received $1 million from the developers of Bell Island, following a brazen helicopter ride by Earl Deveaux and lunch with the King of Spain by Hubert Ingraham, the Aga Khan will now be able to do what Bahamians for generations could not do.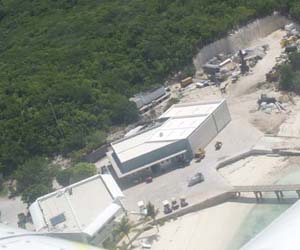 BP is now calling on environmentalists all over the world to explore the destruction and outright RAPE of land now underway in the Bahamas.
"The Bahamas National Trust, its President Neil McKinney and its Director Eric Carey, have corrupted the Trust. When the BNT accepted the money from the developer and agreed with the Government to approve the dredging they forfeited every respect they had gained from the Bahamian people. They are raping the people of this country of its natural resources and they must GO," an angry Exumian said.
Cashing in on the debate, environmental spokesperson, Sam Duncombe, called into a local talk show and called for the entire executive committee of the BNT to resign. She also called for Earl Deveaux to tender his resignation from the Cabinet of the Bahamas.
"The Bahamas Government [which includes everyone in the country] gives money to the BNT. We are paying those people their salaries. They were given this jewel piece of land and now all of a sudden after they were given money by some developer they [BNT] decided to give it away?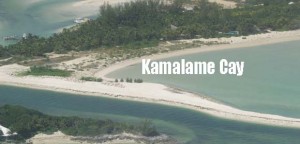 "The BNT needs to be represented by people with integrity, with people who will protect the land. With people who will be protectors. How is it we must now questioning the protectors who are entrusted to protect the land we entrusted them to protect? I cannot believe this is happening in the Bahamas and that we are having this discussion," the environmentalist said.
Bahamas Press believes a flotilla should leave from Nassau and sail to the centre of the Park and declare protection on all its marine life for generations of Bahamians unborn.
A Bahamian cannot swim, fish, troll, or dive no where near the Park, which is reserved for generations to come, but today, this WUTLESS FNM GOVERNMENT IS RAPING THE LAND AND NOW WILL ALLOW THE TOTAL DESTRUCTION OF THE OLDEST MARINE PARK IN THE WORLD!
THEY HAVE NO SHAME; ESPECIALLY EARL DEVEAUX WHO IS ENGULFED WITH SCANDALS! WHEN IT ISN'T BEC IT IS KAMALAME CAY AND WHEN IT AIN'T DAT IT IS SOME HELICOPTER RIDE!THEY HAVE NO SHAME! THEY ARE SHAMELESS BUNCH A MEN AND WOMEN!

WE NEED CHANGE!