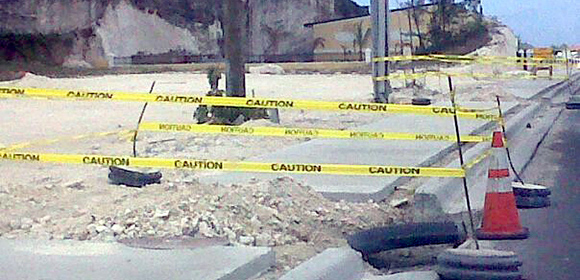 Nassau, Bahamas — Here is a classic photo showing the disaster when comes to the management of the New Providence Road Project. This is East Street near Lil' Generals Foodstore in the south. The roadways are dug-up on both sides of the corridor. Cars are crawling at a snail's pace as only one lane can be used. The same is happening on Robinson Road, Prince Charles and another incomplete section is near BEC on Blue Hill Road.
If the DAMN WUTLESS MEDIA in this country did its job, they would report such. They would report how not one Bus Terminal is assigned to the entire Blue Hill Road North section near BEC and NIB. They would note how day after day NOT one workmen could be seen there. But the media cannot and would not and ya know why? BECAUSE THEY ARE WUTLESS!
In this photo above we see the construction on East Street and we could tell you as we rode that section yesterday NOT ONE WORKMAN could be found. All along that section up to Super Value,  NOT ONE DAMN workman; and this is big-time 11AM!
How much longer can Bahamians suffer with all these projects occurring all at once? With taxpayers dollars being PAID and yet, the work progresses at a snails pace; creating massive traffic jams and road rage!
We believe the project is being poorly managed, and we are being extremely kind with our language.