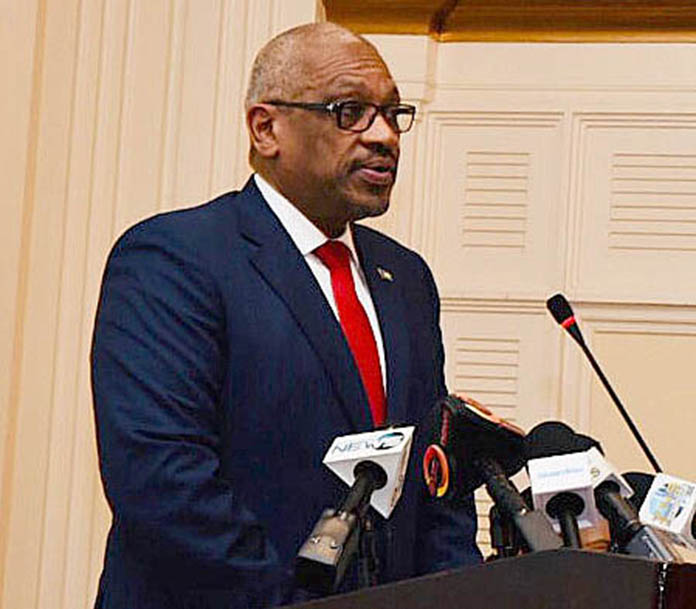 NASSAU, The Bahamas – The Bahamian economy is turning around economically, said Prime Minister Dr. the Most Hon. Hubert A. Minnis as he officially opened the Securities Commission of The Bahamas Public Companies Forum.
The one-day dialogue was held under the theme: "Expanding the Role of the Capital Markets In Bahamian Economic Development," on Thursday, November 8, 2018 at British Colonial Hilton.
The Prime Minister thanked the Securities Commission for hosting this Public Companies Forum, and for inviting him to bring opening remarks.
The forum provided an opportunity to discuss some of the initiatives undertaken by the Government to create an environment where entrepreneurs with sound business ideas may start viable businesses.
It was also an opportunity to discuss recent strides the regulator has made to increase investor confidence in the markets, and to enhance the legal and regulatory framework to allow increased access to capital market funding for businesses, particularly small-and medium-sized enterprises.
According to the Prime Minister, the need for deepening and broadening the economy is critical.
"We must be resolved to improve investor confidence and the use of the markets by public companies if we are to harness the transformative economic potential latent in Bahamian businesses and investors.
"Job-creation, strengthening the Bahamian economy, and improving the environment for business are top priorities for my administration," he said.
The Prime Minister also observed that there are positive indications that the country is 'turning the corner' economically.
The IMF recently projected real Gross Domestic Product growth of 2.3 percent for 2018, and 2.1 percent for 2019, he noted.
He said although these projections are encouraging, there is an immense amount of ground to make up, particularly following a long period of economic decline following the Great Recession of 2008.
"While the Government has a pivotal role to play, the full response to boosting employment cannot rest solely on the Government.
"Viable, sustainable private businesses must truly be the drivers of the Bahamian economy," the Prime Minister said.
He told the forum that it is the Government's duty to create an environment inviting to businesses and entrepreneurs. And, that the Government is fully committed to improving the ease of doing business in The Bahamas.
He said however, that the Government remains concerned about its rating and rank on such lists as the World Bank Group's "Doing Business," which reports how foreign investors perceive the jurisdiction.
"The Government's ease of doing business committee has proposed a suite of recommendations across the metrics to introduce real reform in the regulatory environment.
"We have made some progress to date. But we need to make even greater progress in a timelier manner. Businesses can expect to start experiencing even greater progress as we look to start adopting key measures in the New Year," the Prime Minister said.