Killers are lurking in New Providence in a violent rampage of unconscionable slaughter – NO ARREST OF THE LAWLESS!!!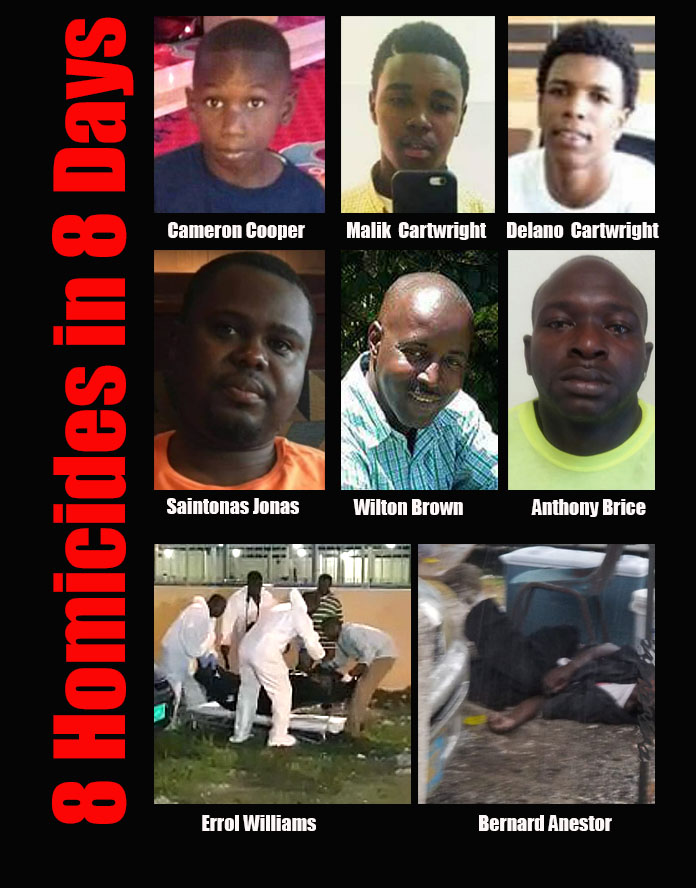 Nassau – Bahamas Press is concerned with the high level of slaughter on the streets, which has gripped the nation in the past few days. And while this happens the Commissioner of Police is on leave somewhere, and the Minister of National Security is battling his credibility in the courts!
We, with the help of hardworking police officers, have identified the seven men and one child on record, who have been snuffed out in the past eight days or so. They are:
Young Cameron Cooper, the seven-year-old Columbus Primary School student who was simply getting ready for school when a stray bullet fatally struck him following an altercation over a drug deal. A gun fired by a suspect, police intel tell us, who has been arrested some six times for gun and drug possession. He must know someone in the criminal justice system.
The victims of the shooting incident at Jerome Avenue on Saturday have been identified as Delano Miqeal Cartwright DOB 26/10/99 and Malik Lance Cartwright DOB 12/9/98 both of Griffin Rd off Jerome Avenue. We have nothing much to say about them. They are believed to have been apart of a gang. Well like some mafia style out of New York – they got murdered while sitting in the barber chair. This is not New York though – THIS IS THE BAHAMAS!
Then there was Wilton Alexander Brown aka "Junior", DOB 15/08/69 of Hollywood Subdivision. Now here is the man who was killed outside his home. He was a taxi driver coming home following an outing with his kids. The motive was robbery police believe.
Saintonas Jonas DOB 6/9/87 of Bacardi Rd, is the man who was shot and killed on Wednesday 6th June, 2018 at Carmichael and Bacardi Roads. Fatally shot by his attacker who wanted $1. A senseless act of violence! Jonas was also a taxi driver who was making strides and resetting his life.
The victim of the shooting in Fox Hill last night has also been officially identified. He is Anthony Brice "Hotdog" age 36 of Fox Hill. Killed in the road by someone he knew and had an exchange with the night of his attack. His killers still someone in the city left him like an animal in the middle street. What a country!
Then there is the victim in that shooting this morning at A. F. Adderley School. He has been officially identified as Errol Williams age 65 years of Pride Estate. This was Williams first week on the job. Shot dead early in the morning. Oh LORD HAVE MERCY! BP will present a solution for these school security problems.
And finally we have the victim in that fatal shooting on Cox Street, Fox Hill Tuesday afternoon. That victim has been identified as Bernard Anestor. Prison officer Tameko Major aka Backwood is now fighting for his life in hospital. He was shot to the chest, revived and is still alive. Pray for him.
Meanwhile, the narrative continues: Crime is down they say. They say Bahamians have nothing to fear.
We say this – Fear is in. The fear of who is next for the slaughter house! And we add this for those repeating the narrative:YOU are out to lunch from reality!
We report yinner decide!