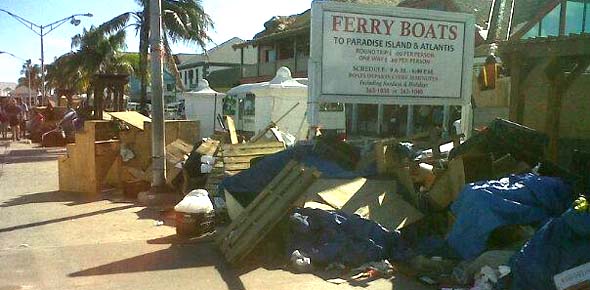 Look at the CITY OF NASSAU left behind by the vendors!
Nassau, Bahamas –– CITY DUMP = It is in the city [Nassau] and the vendors left the wharf like a dump!Who in the hell is managing this city?
This was the condition of the wharf just behind Bay Street in the City of Nassau this morning as six cruise ships were docked in the harbour, with thousands of tourist talking pictures.
The DAMN NASTY VENDORS in the city left the city like a DUMP SITE!
One man cleaning the garbage found a bucket filled with feces in it. SOME PEOPLE HAVE NO DAMN SHAME! EVERY ONE Of DEM VENDORS SHOULD BE KICKED OUT OF THAT NEW STRAW MARKET and be forced to clean up the garbage left behind! Better yet, every vendor on the wharf should be fined by an environmental court!
DINGY DUTTY AND DOWNRIGHT NASTY!!!!