Executives at BTC packing up and leaving – CWC has his hands full!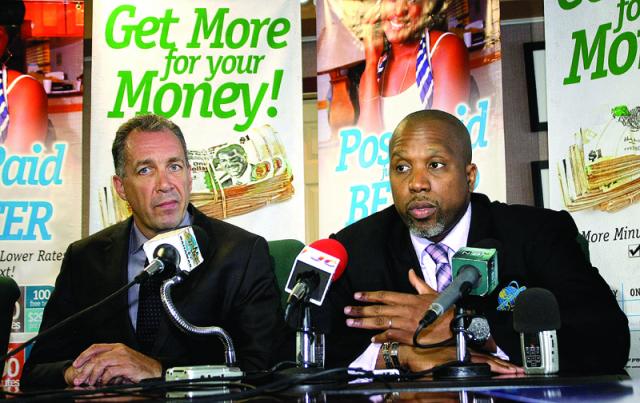 Executives now leaving BTC! One observer classify the latest departures as a tragic loss for CWC!

Nassau, Bahamas — The fallout has begun at the Bahamas Telecommunications Corporation. BP has learnt a number of resignations have begun.
Sources deep in BTC tell us the return of new CEO Leon Williams has triggered something huge at the Corporation and today telephones are off in Western New Providence.
What in the hell is this?
We can confirm the man who engineered the burst of globally award willing public relations at BTC, Sr. Vice President, Marketing & Communications, Marlon Johnson, among others, has also issued notice of resignation at the telephone company.
You would remember BTC went under a major brand and marketing promotion, which saw an explosion of new prizes and car give-a-ways from BTC under Johnson's leadership.
You would remember how BTC's reality show "Starmaker", which saw a rebirth with young audiences, was just another of the great inventions of Johnson. That BTC's market could now be threatened when Digicel enters. Will that powerful branding plan be taken to Digicel? No one knows but at BTC there is quiet noise today.
In a letter which circulated throughout BTC office Johnson wrote:
Colleagues,

This July 31st will be my final day at BTC after 7 years and nine months.

I want to say a very special thank you to all the Ministers, Former Ministers and Honorary Ministers of the Ministry of Excitement (aka the Brand & Communications division) with whom I have had the very real priviledge and honor to work alongside.

I thought about the things we have accomplished and blazed trails on over the last seven plus years.  The list is truly too long to list.  I often tell my friends that I get far too much credit for the great things that the Marketing division of BTC has accomplished.  The accomplishments and the milestones we have reached are due to your imagination, your diligence, your hard work and your perservence.  The credit for everything that we have done belongs to you.

All of you in your own ways have made me a better professional – and more importantly – a better person.  Through the good and the bad, the ups and downs, the rows and my "carrying on like a complete and utter jackass", the team has stuck together and always ensured that the job got done and that it got done well.

It is my hope that in some small way, I have contributed to your development and as you have helped me grow – that I have returned the favor as well.

I know that the MOE team in particular will serve my succesor with the  same level of 'professionism' and pride that was given me.  As the company and the division settles into new leadership, there will be some disruption and some uncertainty.  But I admonish you all to stay focused and to continue to work hard for the company that has given much to all of us.

I know that I haven't been easy.  And I am not very sentimental.  But do know that I appreciate you and all that you have done and all that you do everyday.  It has truly been the time of my life.

I am 'gonna' be watching and of course continuing to expect great things out of you and great things out of BTC!

Lots of love and all that mushy whatsnot,

Marlon

The artist formerly known as the Sr. Vice President, Marketing &

Communications