Bahamas Press projects a BLOWOUT in favour of gaming questions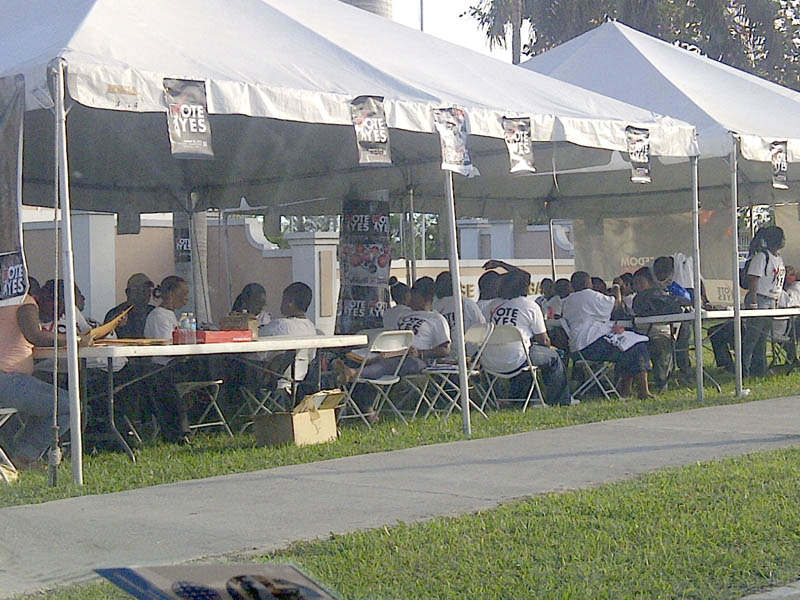 Nassau, Bahamas — Breaking News coming into Bahamas Press following exit polls done by BBB Analytics this afternoon in early voting confirms Prime Minister Rt. Hon. Perry Christie will be granted his government's agenda to regulate and tax Gaming in the Bahamas and establish a national lottery.
The overwhelming support was the wide consensus displayed by voters today as they cast ballots in early voting for the Gaming Referendum.
And although the polls are set to close at 6 pm this afternoon, the tone is already set as hundreds of "YES" supporters are still on the ground at the College of the Bahamas and at the Kendal G. L . Isaacs Gym in celebration mode.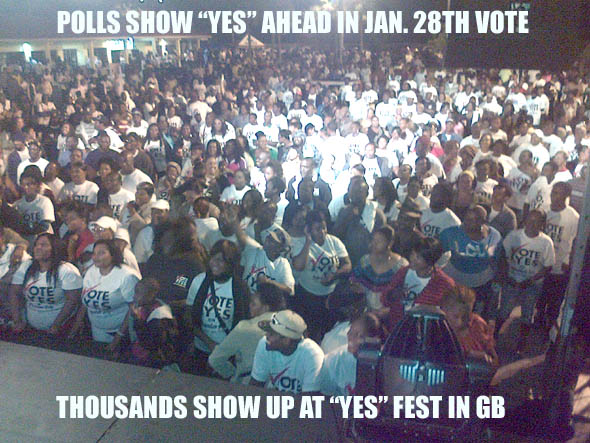 Of the persons polled casting ballots early this morning up to 4pm this afternoon an overwhelming majority said they supported the Christie Government's plan to regulate the Gaming business in the country.
One woman told BBB Analytics conducting the exit polling data, "Why not regulate a business that is already a popular activity in the country. We cannot stop it in this age of technology. Many of the webshop already provide jobs for young Bahamians and I am inclined to support those workers keeping their jobs. It is a great idea and I applaud the Government's plan and bold step to move the Bahamas forward!"
BP can also confirm senior members of the Free National Movement, who went publically against the idea, have also cast ballots in favour of regulating and taxing gaming in the Bahamas.
The numbers of "No" supporters however were invisible, with many not even showing up to cast ballots. One lone supporter in "NO" vote t-shirt told BP's polling team, "While I do not support it, seeing the overwhelming support here today, I feel that it really makes no sense to even fight it. But I guess it is what it is!"
"No" vote supporters packed up and left polling stations in the early afternoon today, and around 4pm this afternoon, two hours before polls could close, only three "No" vote supporters were seen sitting under the campaign tent resigned in defeat.
Prime Minister Christie warned the FNM that the vote against the referendum was not possible and chided the opposition for attempting to bring political colour to the debate.
A win next Monday will result in Prime Minister Christie racking up his fourth victory before the people in 2 years.
Bahamas Press in polling data last week confirmed that Pastors exert little to almost no influence over the decisions of their members. In that report this morning we confirmed that the "YES" vote was ahead and now project a BIG WIN!!!
We report yinner decide!