Some suggests an alleged fight inside the car caused the accident….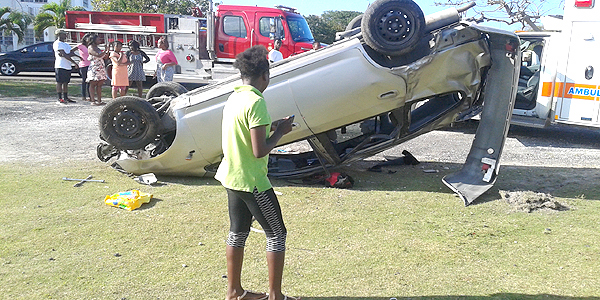 Nassau, Bahamas — Here is why driving without care and attention can lead to a tragic loss of life.
On Sunday, while chilling in the backyard, BP heard a large bang and there caught our eyes a Honda SUV vehicle doing the cartwheel in the Winton section of Prince Charles West near the SuperValue Foodstore and Rugby Road.
Trapped inside that mangled vehicle were members of a small family of four. The father at the wheel, his wife and two kids. The family had packed up from a beach picnic in the eastern section of the island just minutes before the terrible crash.
We can tell you the three other members of the family were taken to hospital around 5:00 pm. The deceased, who is an adult male, was driving a 2002 Honda Stream vehicle, lost control of the vehicle and collided with a tree.
Upon colliding into the tree, the vehicle overturned and flipped repeatedly and became stationary some distance from the initial point of impact. The adult female, a young child and an infant were rushed to the hospital for injuries received.
The deceased later succumbed to injuries received, however, the infant remains in serious condition and the condition of the other two passengers is listed as stable.
Bahamas Press is live…
We report yinner decide!