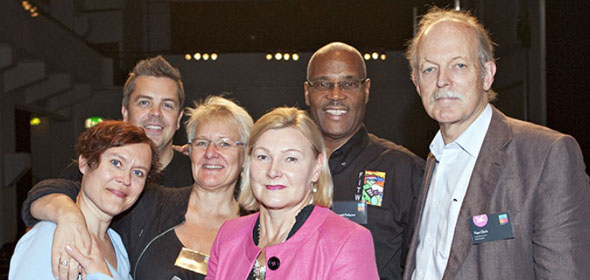 Nassau, Bahamas — Roosevelt Finlayson, President and Creative Collaborator with MDR presented at the Creative Economy and Beyond Conference held in Helsinki, Finland.
The Conference theme was "Challenging Arts, Business and Policy–Making."
Mr. Finlayson's presentation addressed the topic "Towards the Creative Society: Insights from Festivals as self Organizing Systems."
The conference was coordinated by Creative Industries Finland and was scheduled to run concurrently with Helsinki Design Week.  More than two hundred persons attended from the major regions of the world and including some of the thought leaders and shapers in the emerging field of the Creative Economy.
Ines Seidel of Trend & Market Analysis, based in Germany, attended Mr. Finlayson's session and commented on his presentation: "Roosevelt's presentation was eye-opening.  How to bring creativity and innovativeness into the workplace is still a riddle to many organizations.  Roosevelt's study of festivals holds concrete and practical advice on how to inspire creativity and build self-esteem and team spirit at the same time.  The great thing about his presentation was that Roosevelt did not just deliver research results; he was actually performing and living them with his energetic personality."
Professor Don de Guerre of the Department of Applied Human Sciences at Concordia University in Canada also attended this session and said: "Roosevelt Finlayson's insight that a creative economy will only be sustainable in a creative society is obvious but profound.  His systemic perspective takes us beyond thinking about economy and culture to understanding a more contextual view of the creative economy.  The development of a creative festival community as a self-organizing system provides a rich learning platform from which Roosevelt draws key elements and lessons that enlarges our view of what to do and how to do it.  His insights are critical and timely as we go forward to find innovative and creative ways to develop a sustainable future for humanity."
Mr. Finlayson said of his experience, "It was a great opportunity to be a part of this conference and to be able to share my work in developing the FITW process and connect it to the Creative Economy.  The conference also stimulated several new insights on how our work with festivals relates to the field of design and the creative and cultural industries. I came away from the conference with a lot of ideas on how we could begin to design and develop the strategies to develop these industries as a core part of our future economies in The Bahamas and the Region."