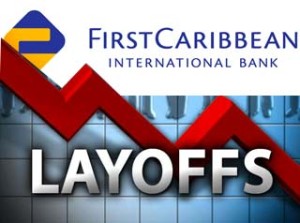 Antigua St John's – Unionised staff at FirstCaribbean International Bank (FCIB) took industrial action on Friday, in the midst of ongoing negotiations over staff reductions.
The bank has since apologized to its customers, noting that it had not been given prior notice of the planned action.
A release from FCIB said, "The Bank has strictly followed all procedures under the Labour Code and the Collective Agreement with the Union in addressing the redundancies.
Despite the Bank's efforts the Union has disagreed with the Bank on the method of implementing the redundancies, as a result of which the staff took this most unfortunate action."
It said the union had been engaged over a period of several months to discuss the issue.
The release added, "FirstCaribbean asserts that, as with every jurisdiction in which it does business, it adheres to the laws of Antigua & Barbuda, and operates according to both the letter and spirit of the Collective Labour Agreement, signed with the Antigua and Barbuda Workers Union which represents its unionised staff in Antigua."
Nonetheless, the bank said it will remain open to continuing talks with the AWU to resolve the employees' concerns.
There has been no statement so far from the union on the issue.
Read more: http://www.caribarena.com/antigua/business/banking/97203-firstcaribbean-workers-protest-planned-layoffs.html#ixzz1JxDUx32B