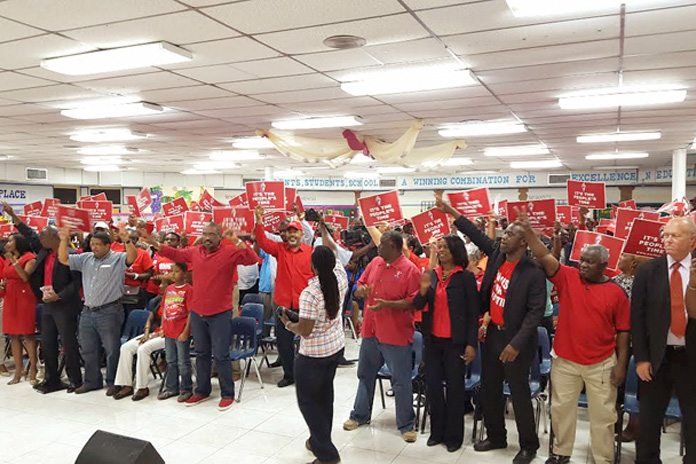 Nassau, Bahamas – Leonard Sands, a son of the soil from Bains and Grants Town was officially introduced last evening by FNM Party Leader, the Hon. Dr. Hubert A. Minnis as the FNM Candidate who will represent Bains and Grants Town in the 2017 General Election. The event, the Bains Grants Town Constituency Association meeting held at Stephen Dillet Primary School attracted hundreds of residents.
Mr. Sands is a Construction Engineering Technology graduate from Florida Agricultural and Mechanical University, business owner, President of the Bahamian Contractors Association, and part-time lecturer in the School of Math, Physics and Technology at The College of The Bahamas. Mr. Sands pledged that he will earnestly work with the Bains Grants Town residents to transform abandoned properties into beautiful community recreation spaces, and street vegetable gardens, and engage residents in learning about the deep cultural history of the area.
Further expounding on his Tax Free Zone vision Dr. Minnis assured that the initiative will create opportunities to empower the people of Bains Grants Town to become entrepreneurs and business owners. Minnis also promised that under his leadership, an FNM Government will create a single Ministry of Sports that will focus on identifying and developing the rich talent of our youth so that they can become world class athletes.
Other speakers included FNM Deputy Leader, Peter Turnquest, MP; Senator Lanisha Rolle; Mr. Orkell Solomon, Youth Representative, Ms. Ronique Brown, President, FNM Torchbearers Association and Mr. Howard Johnson, FNM Candidate for South Beach.