An FNM Goon committing crimes to create distraction
Nassau, Bahamas — A goon of an FNM henchman is headed to prison for thiefing the licence plates of two MPs from downtown Nassau.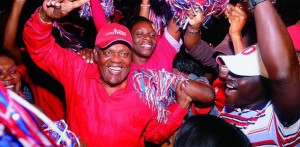 The elderly man allegedly works for a speechwriter of the former Prime Minister and is a regular at a McDonalds restaurant here in New Providence.
Readers should know the man arrested and the speechwriter often dialogued late into the morning at a hot spot here in Nassau, planning and plotting tactical election maneuvers for the May 7th election.
Police now have their man who stole in big broad daylight the licence plates of two sitting MPs while their cars were parked on Parliament Street.
The matter was first raised in the Parliament by Neko Grant.
Some believe the plot was to highlight the incident in the House to shame the government on its fight against crime, but now the plot has backfired.
The goon pleaded guilty to the charges and is now behind bars.
Who will the FNM pay to commit crimes now?
Boy, if you don't laugh you will cry.
We report yinner decide!