THE FNM DON'T GIVE A DAMN IF YOUR CHILD GETS BEAT UP AT SCHOOL OR A TEACHER IS SHOT!!!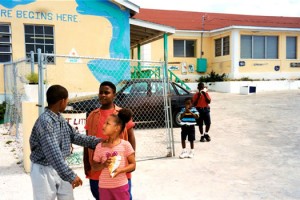 >>>> While some FNMs are on NB12 tonight attacking the School Policing Programme, the FIRED Ingraham government has yet to put forward to the country a solution to the incidents of violence in the classrooms.
Years after murder, stabbing and beatings on teachers and students have threatened the lives of law abiding citizens on campus, this is the first and only idea that has come to solve the crisis at schools.
THERE IS NOTHING WRONG WITH OPPOSING SCHOOL POLICING…THE RESPONSE THOUGH MUST BE THIS…
WHAT IS THE FNM SOLUTION TO THE SCHOOL VIOLENCE PROBLEM??? [AND WE SHALL WAIT!!! AND WAIT!!! FNM FAILURE CAN'T DONE!!!!] – KEEP THEM OUT!!!!
WE REPORT YINNER DECIDE!