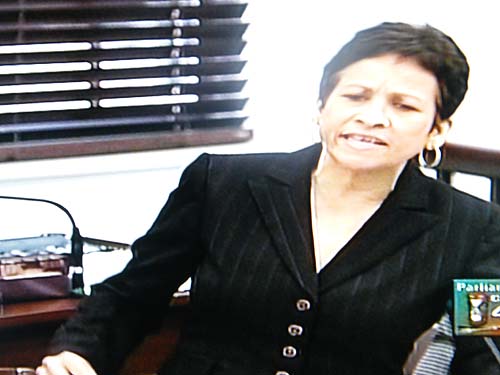 <<< Glenys Hanna-Martin [The Giant Slayer] tells Sea Breeze MP Carl Bethel to sit down in the Parliament last evening, as he argued to the Speaker to not hear the matter. SHAME ON YOU CARL BETHEL, SHAME! RESIGN BETHEL, RESIGN NOW! The PEOPLE OF SEA BREEZE SHOULD BE SHAME OF CARL's FAILURE TO PROTECT CHILDREN IN THIS COUNTRY! YOU HAVE LET DOWN THE CHILDREN OF THIS COUNTRY!!!!

FNMs Block Hanna-Martin push for an Investigation into EMRH SCHOOL Sex Scandal Part I
FNMs block Hanna-Martin push of an investigation into the EMRH School Sex Scandals Part – 2
WHAT IS THIS???? THE FNM BLOCKING AN INVESTIGATION INTO THE SEXUAL SLAUGHTER NOW BEING COMMITTED ACROSS THE COUNTRY IN PUBLIC SCHOOL? WHAT!?
Today, PLP Chair Glenys Hanna-Martin stood under an item in Parliament, asking for the appointment of a select committee to began an investigation into the incidents at the Eight Mile Rock High School.
Some three educators are now under investigation at the school for having alleged unlawful sexual intercourse with children. One of the teachers Andre Birbal was paid by the ministry of education and allowed to leave the country whilst he was still under investigation. Carl 'UNDERNOURISHED' Bethel was up and down on the floor of the House, sometimes jumping when he was not recognized by the speaker, in his VICKED attempt to block the request from proceeding.
Now what is amazing here is the fact that the FNM government now, at every turn, is attempting to stall an investigation into how so many children were sexually molested at the government school. One child has now committed suicide and another has been flown to New Providence for psychiatric treatment.
We've reported where the former art teacher at the school Andre Birbal, has allegedly raped more than 20 boys over an 8 year. Two of the victims, one now with the HIV virus, have stepped forward and reported the incidents to police on Grand Bahama, but initially nothing was done.
Bahamas Press has learned that Birbal operated an afterschool programme funded under the MOE where he lured school boys and engaged in unnatural sex acts, exposing the children to his pedophile friends. Some of those frends included officers in Grand Bahama's police force and education officers.
First Carl Bethel failed to investigate the incidents, which were reported by the school's PTA President Troy Garvey back in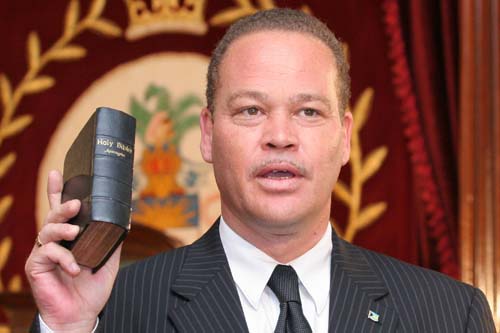 2007. Then Bethel failed to block the pedophile from leaving the country. His ministry then paid the teacher after he resigned from the MOE. And now today whilst in the Parliament, the entire Ingraham government denied the request for an investigation to be carried out by a select committee.
Look what WE coming to! Boy, somebody better start packing their bags.
Carl 'UNDERNOURISHED' Bethel holding the bible .