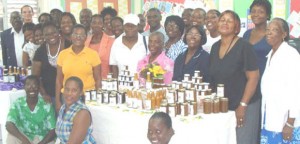 The Department of Marine Resources of the Ministry of Agriculture and Marine Resources hosted the South Andros Agriculture Association to a three (3) day Food Preservation Workshop at the South Andros High School on November 17th to 20th, 2010.
The objectives of the workshop were to:
Highlight the traditional foods of South Andros; provide processing ideas and information of products suitable for local industry.
Introduce persons involved in farming to the field of food preservation; further encouraging the manufacturing of value added agricultural products.
To prepare entrepreneurs with some basic scientific principles in the preparation of a variety of agricultural products to include preserves condiments, fermentation, etc.
To provide skill to better utilise post harvest losses which can providing greater economic benefit for the farmer and entrepreneurs through the development and provisions of local product for the tourist sector, and
Discuss with Home-Economic student the careers currently available and possible careers that can be established from the variety of agricultural products imported into the Bahamas.
Evening sessions included thirty-two (32) participants who were divided into eight groups consisting of four persons; each group shared in the responsibility of preparing labels for their product, selecting a team leader and completing group projects. Day sessions were conducted to accommodate the eleventh and twelfth grade students of the South Andros High School's Family and Consumer Science classes were given basic food preservation training.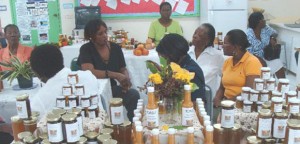 The workshop was facilitated Mr. Keith Daley Sr. Food Technologist Keith Daley and Mr. Bernard Clarke, Laboratory Technician in the Department of Marine Resources. The training provided included power-point presentations on Food Safety, Good Manufacturing Practices, Fruit Preserves, Pasteurisation, Condiments and Principle of Food Preparation. Pamphlets were distributed for all practical process. The demonstrations included the use of small analytical equipment to include gram and pound scales; use of pH meters, refractometer, and thermometers, all of which allowed for consistency, quality control, greater efficiency and reduction in processing time. Emphasis were placed on fill of container or air-space, consistency of product, trapped air, documentation, sanitation, proper use of international standards, consistent use of same ingredients and proper labelling.
Products prepared during this three-day period included indigenous flavour of preserves which included mango, sea grape, papaya, pineapple, guava and green tomato; also the preparation of fruit flavoured yogurt, hot dog relish and pepper sauces. Information was relayed on pasteurisation of bottle tomatoes, yogurts, sauces, salad dressing, fruit juices, chutney's and other preserves. Each group which represented a manufacturing company, produced at least three (3) products.
During the closing session each group displayed their products. Each group leader spoke candidly about their products, benefits of the training and their commitment to continue with the preparation of value added products. Both Ms. Sheran Cockfeild, Home Economic teacher and Mrs. Bridgette Lloyd, president of the South Andros Agricultural Association thanked the Ministry of Agriculture and Marine Resources for the timely workshop. Remarks were also received from the District Administrator Mrs. Brenda Colebrook and the Permanent Secretary Mr. Creswell Sturrup of the Ministry of Agriculture and Marine Resources who also presented the participants with certificates of participation.