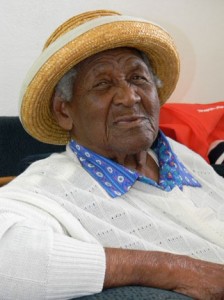 Nassau, The Bahamas – A 102 year old senior citizen said she is a survivor and finds her strength in being thankful for everything she experiences in life.  She was born March 16, 1908 and looks forward to seeing her 103rd birthday.
Mrs. Jenny Edgecombe moved to the Mary Ingraham Seniors Home, off Cowpen Road, five years ago, after a lifetime of challenges.  She spent Friday afternoon November 26 reflecting on her blessings as well as the confidence she gained in humility and self-actualisation.  Mrs. Edgecombe is happy for every staff member who has lent her a hand.
"I am thankful for everything.  And most of all I thank Him for the home I'm in, because the home I was living in before I came here needed a roof on it and they needed to fix it, and they didn't want to take the rent to fix it," said Jenny Edgecombe.
"I am telling you the truth, I laid down in bed with rain coming from the roof and water was pouring in my mouth.  I could put my hand in the water on the floor and I was in the bed.  I thank God for that because there is a roof over my head now.  When I was bare feet, I got shoes on my feet now and food on the table because He provides for me.  All of that help to strengthen me."
Mrs. Edgecombe said she came from Staniel Creek, Andros and had been married once at 19-years-old.  Her husband died three months after the wedding, while out on a fishing trip.  The couple did not produce children together.
She said she never remarried because she dedicated her life to serving the Lord.  However, she had two children – Harriet Strachan, a girl who died at age three and a son, Kenneth Johnson, who grew up and died at 52 years.  She raised her son on her own and advises that the secret to aging is to find strength in love.
"The 27th Psalm says 'the Lord is my strength and my salvation,' so he is the strength of my life.  And the 14th verse says, 'Wait on the Lord and be of good courage for he shall strengthen thy ways'.  That's how I accomplished, you know," said Mrs. Edgecombe.
"They said to me, 'You accomplished that?'.  I said 'Yes because I surrendered all.  Sometimes we put thing to Him and we want it to be hurried up to please the world.  We must please Him to get along in life."
On November 26, a Thanksgiving Luncheon for Older Persons was held at the Mary Ingraham Seniors Home. The   traditional turkey and ham lunch with all the trimmings and side dishes for at least five seniors living at the home was provided.