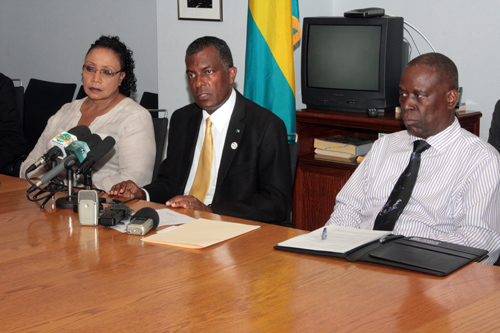 NASSAU, The Bahamas – Minister of Foreign Affairs and Immigration the Hon. Fred Mitchell said at a press conference on Sunday, August 25, 2013, that he will leave for Washington, D.C. the following day for meetings at The Bahamas Embassy there and at the U.S. State Department.
"I shall also visit the United Nation mission of The Bahamas in New York, then our consulate in Atlanta," Minister Mitchell said.  "I shall meet with the staff of the consulate in Miami on Friday.
"The purpose of this is to brief all staff on the recent events, to introduce the new Ambassadors and to speak with the U S State Deportment about new proposals to deal with the current issues."
Minister Mitchell added that he spoke with the Justice of Appeal (retired) that morning, along with Prime Minister the Rt. Hon. Perry Christie, and they are in the process of settling the terms of reference of the review of the investigation that they expect within a week.
He said that they are seeking to have the review of that matter settled within 30 days thereafter.
"A negotiating team will leave The Bahamas as early as the coming weekend to meet with the Cuban authorities in Havana with a view to settling the modalities of how there can be a quicker turnaround of migrants to Cuba," Minister Mitchell said.  "We expect that a new agreement will be in place shortly."
Minister Mitchell stated that he would meet the Cuban Foreign Minister in Grenada in early September to discuss the matters directly.
"We began discussions with the Acting Foreign Minister when the National Security Minister and I met in Havana earlier in the month," he added.  "We have had helpful discussions within the past week with the Government of Panama.
"Our mandate is to ensure that the Detention Centre is empty of inhabitants, migrants, detainees as much as humanly possible."
Minister Mitchell said that, in the meantime, the facility is being repaired and, in a few weeks, the Ministry of Health will be supervising an effort to sanitise and paint the existing dorms.
"This will require those who are detained at the detention centre be housed at the prison until the sanitation is done," Minister Mitchell said.  "We are seeking to ensure that these numbers are at a minimum."