Fox Hill has suffered another lost in one of its finest daughters – Donations in Pamela's memory should be sent to the American Cancer Society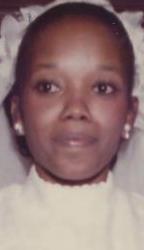 ONEONTA …Pamela L. Matthews, 61, the Secretary of the United States Colored Troops Institute, died Thursday, April 17, 2014, at A.O. Fox Hospital, Oneonta.
She was born May 29, 1952, in Fox Hill, Nassau, The Bahamas, a daughter of the late Vera Jane and Clifford Ashland Davis, a retired manager of the legendary Players Club of Gramercy Park, NYC.
On May 26, 1973, she married Harry Bradshaw Matthews in Great Neck, New York. Pamela worked for 15 years at A.O. Fox Hospital. In 1998, She joined her husband and others in establishing the national membership organization, the United States Colored Troops Institute for Local History and Family Research, headquartered at Hartwick College, and served as its long-term secretary.
During her adult years, she enjoyed exhibiting her decorating talents, mentoring young women and co-founding the privately owned Matthews Collection for the Preservation of African American Freedom Journey Classics documenting the Underground Railroad, anti-slavery movement and the involvement of African Americans from the Revolutionary War through World War II.
Pamela is survived by her sister Karen Mathews of Los Angeles, Peggy Davis of Los Angeles, and Elizabeth Esposito of Reading, PA.; two aunts Susan Kelly of Ridgefield Park, NJ, and Mildred Taylor of  Nassau, The Bahamas, as well as in-laws  Maria Carter of Glen Allen, VA, Gloria Matthews of Covington, GA, Celes Young of Roosevelt, NY, Charles Matthews of Freeport, NY, Pasquale Esposito of Reading, PA, and Howard Matthews of Uniondale, NY. Pamela is also survived by a host of nieces, nephews, cousins and friends.
Pamela was predeceased by her parents and Aunt Nathalie Roberts and Uncle Gerald Roberts, Sr.
Any donations in Pamela's name should be made to the American Cancer Society.
A celebration of the life of Pamela will be held in the Oneonta area on Saturday, June 21, 2014 for family and friends.  Location and time will be announced prior to the service. Please forward condolences and requests for information to Harry Bradshaw Matthews, P.O. Box 107, Oneonta, NY 13820.